After weeks in lockdown, it's more important than ever to celebrate special days. But, when it comes to lockdown birthdays, that's easier said than done. While it's not quite so hard to pull off adults' birthdays (tip: we're delighted with a lie-in, a slice of cake, and a takeaway for dinner), it's much harder to deal with kids' disappointment – especially if they've been planning their party for months, worked out the guest list and written the (homemade) invitations.
Now we know some degree of social distancing will continue into summer (and possibly beyond), more and more children are going to see their birthday plans change. It's tough to tell kids their party has been cancelled, especially when it's impossible to organise a trip to the zoo, theme park or cinema to make up for it. And it's even harder when kids can't celebrate lockdown birthdays with extended family and friends.
So if you're worried about how to make lockdown birthdays special, here are five ways to make sure it's a memorable day – for all the best reasons.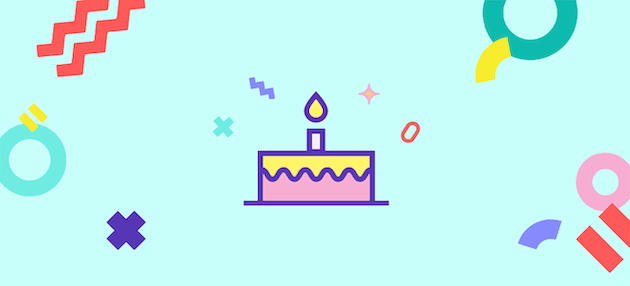 1. Birthday drive-by 🎈
It's hard on kids to be away from their friends, but a birthday drive-by gives them the chance to see all their mates – from a safe distance. Decide on a time, then ask friends and family to drive by (slowly!) so that they can wave, sing happy birthday, or drop off a present on your doorstep. Balloons, streamers and banners make this extra special, so don't forget to decorate the front of your house.
Of course, there's no need to drive if friends live nearby – a walk-by is just as good. You could even ask neighbours to step outside their houses and sing happy birthday. Just remember to keep your distance, and try not to cry when you see the excitement on your child's face (trust us, you'll cry).
2. Homemade gifts 🎁
Even if the shops are closed or you're self-isolating, you should be able to shop for your child's birthday gift online. Don't forget: delivery can take several days (or weeks) longer than usual.
But if you've been furloughed and your birthday budget has shrunk, think about making some homemade gifts for younger children. Make a playhouse or castle from cardboard boxes, create costumes for a dressing up box, plan a treasure hunt, sew doll's clothes or make a soft toy or puppet.
For teenagers, you could create an album all about their life, incorporating everything from cute baby photos to school reports and holiday snaps. Ask older siblings or cousins to create a Spotify playlist (remember how much you used to love a mix tape?), or think about making a quilt, blanket or floor cushion for their room.
3. Retro games 🥳
Can you remember the last time you pinned the tail on a donkey or played musical chairs? Retro party games (yes, we do mean the ones you remember playing as a kid) are a great way to have fun together as a family. Younger children will love watching their parents and older siblings playing musical statues or passing the parcel – and you'll get to relive your childhood birthdays!
You can even invite some friends and family members to join in via video call. Although it's tricky to play some of these games via a screen, you could download Heads Up! Kids and play a virtual game of guess who?
4. Send money 🎉
If grandparents, godparents, aunts and uncles are struggling to shop online, or can't make it to the post office during lockdown, giftlinks make it easy for them to send money directly to your child's gohenry account.
All you have to do is create and share a giftlink via your gohenry app. Your child can then choose to save the money for something special, or use it to buy their favourite lockdown treat.
5. Virtual parties 🎂
Teens won't need much encouragement to host their birthday bash on Houseparty or Netflix Party, but younger children often find it harder to have fun with friends via a screen.
If you're worried a virtual party won't hold your child's attention, why not ask a professional for help? Many children's entertainers now organise virtual parties, featuring magic tricks, games, music and dancing. These can be themed according to your child's interests, whether that's Spiderman, Cinderella or unicorns.
Once you've booked the party, the planner will take care of all the (Zoom) invitations, so your child can enjoy a live show through their computer, laptop, tablet or phone – and some provide a video of the party so they can watch it back later.
All parents know that children's parties can be stressful, but this way you'll be able to sit back and watch the fun without the pressure to entertain your child and all their friends. There's no need to book the church hall, and you won't even have to worry about filling party bags. Result!