Most children now have access to a digital device before they start school. And while younger children are unlikely to be allowed to use these unsupervised, the number of children who have their own phone rises sharply from the age of ten.
According to research from YouGov, 88% of 12 year-olds now have their own phone, and 40% of six year-olds have their own tablet. It only takes a minute to set up parental controls, which limit the type of content that your child can access, but some of the most popular websites, streaming services and social networking apps also have minimum age limits.
So if you've been wondering if it's okay to let your child use Instagram (they really want to watch those cat videos), or take on a Minecraft challenge with friends (since the start of the pandemic, we've all been in 'survival mode', right?), our guide to age limits might help you decide.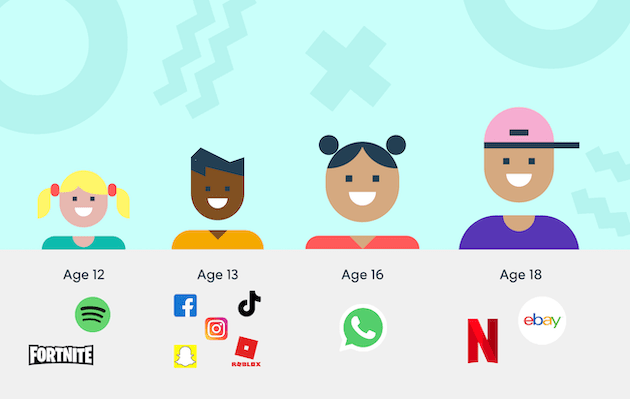 Why do apps have age restrictions?
Most websites and apps have minimum age limits to keep your child safe, but that doesn't necessarily mean that kids can't – or shouldn't – access them. For example, many streaming apps, including Spotify, Amazon Prime and Netflix, offer family accounts. These make it easy to add different users and set up parental controls, so there's no need for children and teenagers to have personal accounts.
Social media and gaming platforms can be tricker – although they seem like a great way for kids to keep in touch with friends, most have private messaging functions or location tracking. Bear in mind that children don't always understand the consequences of posting jokes, images or comments online – once shared, these can't be taken back. What feels like banter could come across as bullying.
Even though most social networks don't allow children under 13 to register, a study by OFCOM found that 18% of 8-11 year-olds already had their own social media profile, with or without their parents' knowledge. Among parents who were aware that their child had a profile, less than a third knew there was a minimum age limit.
So if you're unsure of the age restrictions that apply to your child's favourite websites and apps, take a minute to check our guide.
Age 12
Fortnite is the most popular video game in the world – and it's free. It's rated PEGI 12+, which means it's suitable for children aged 12 and above. You can use parental controls to ensure that younger children can't access the game.
In the UK, children can sign up for their own Spotify account when they turn 12, as long as they have parental permission. Younger children can still have their own account via a family subscription.
Age 13
When your child becomes a teenager, they can join Facebook, Instagram, Twitter, Snapchat and TikTok. 13 year-olds can also sign up for a YouTube account with their parents' permission, although some content will be restricted.
From the age of 13, kids can also create their own Minecraft account, although they won't be able to access certain features, including making purchases, changing settings and chatting in scrolls. Minecraft has a PEGI rating of 7+, so younger children can play via a parents' account. Roblox also has a PEGI rating of 7+. Kids of any age can set up a Roblox account, but there are stricter settings for those under 13.
Fashion marketplace Depop also allows 13 year-olds to set up their own account, but they'll need to send and receive payments via an adult's PayPal account.
Age 16
Many parents are unaware that WhatsApp has an official age rating of 16+. As well as allowing users to share messages, images and videos, it enables group chats and location sharing.
Age 18
After their 18th birthday, teens can create their own eBay account and sign-up for Netflix (although you know that's not going to happen when they can use your family account for free, right?)
They can also create an account on streaming app live.me when they turn 18. As well as allowing users to share live videos, it also tracks location and enables public comments and private messages.
Visit net-aware.org.uk for more help and advice on helping kids to stay safe online.