It's the question on every child's lips: will there be chocolate from the Easter Bunny this year? So it was a huge relief to hear that New Zealand's Prime Minister, Jacinda Ardern, has confirmed the Easter Bunny is, in fact, a key worker.
That means he's allowed to leave his burrow and crack on with delivering eggs and chocolate treats, even with the lockdown in place. However, reports suggest he may be hoperating a bit differently this year…
An eggsceptional Easter
Like all our extremely dedicated key workers, this year the Easter Bunny has his paws full. As well as taking care of his (very large) family of quarantined bunnies, he's doing his best to deliver his usual Easter eggstravaganza to socially-distancing families around the world. It's no wonder he's got his whiskers in a twist.
According to reports, he's scrambled a team of bunnies (who are staying two metres apart at all times) to make sure there's enough eggs for everyone. He's stocking up on chocolate eggs, fondant eggs, caramel eggs, dinosaur eggs, pink eggs and miniature eggs, but many are in short supply – and that's no yolk.
Fortunately, the Easter Bunny has an eggscellent solution up his (fluffy) sleeve…
The Easter Bunny sends virtual money
Last week, the Easter Bunny had a crisis meeting with the Tooth Fairy. She's also a key worker, but social distancing is making it tricky for her to get close enough to sleeping children to collect every lost tooth.
As many parents will know, the Tooth Fairy has already gone digital in some parts of the country. At gohenry, we're seeing digital Tooth Fairy payments on the rise, with many parents saying she's promised to collect teeth at a later date.
So the Easter Bunny has come up with a plan – and we think he's cracked it. In fact, you could say he's eggscelled himself. Just in case he can't deliver as many eggs as usual, he's setting up an Emergency Egg Fund and making digital deliveries. This means eggcited kids can hop to the shops to buy their own chocolate treats when life returns to normal.
Rumour has it the gohenry Giftlinks feature is now being used to help relatives donate to the Emergency Egg Fund from afar, proving that families across the UK are already jumping on the Easter Bunny's plan.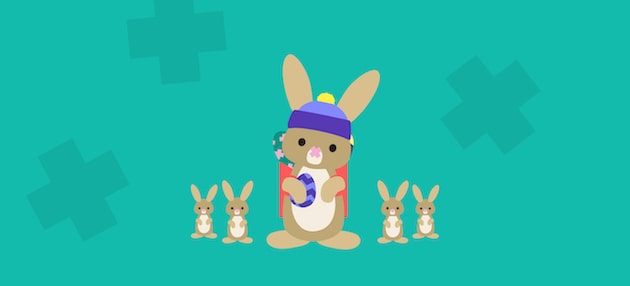 Thanks to the Easter Bunny's hard work, children across the UK will enjoy some Easter treats this weekend. At a time when social distancing is getting everyone down, hopefully this will help kids to stay sunny side up.
We're so grateful to every single key worker, and we'd like to say a big thank you to everyone who's doing an amazing job of keeping all our essential services running smoothly.
🐰🐣Happy Easter from everyone at gohenry!🐣🐰