The allowance & chore app that puts kids first
Set your child up with financial skills for life—GoHenry is great for hands-on learning, and so much more!Send your kids a weekly allowance, or pay them to complete chores around the house—your kids will learn the value of earning and it'll increase their sense of independence at the same time.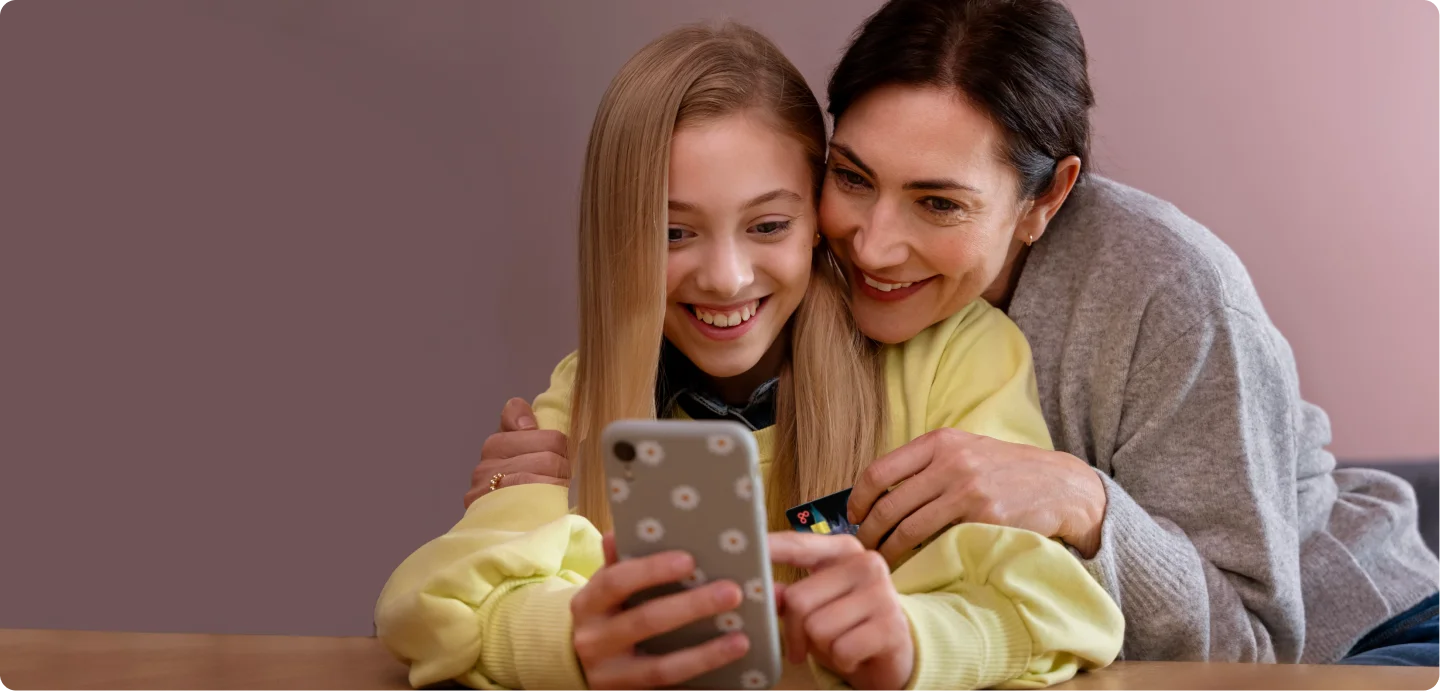 Send your kids a weekly allowance, or pay them to complete chores around the house—your kids will learn the value of earning and it'll increase their sense of independence at the same time.
Tap, tap, chores
Setting up chores in-app couldn't be easier. Just choose a popular task or create your own (check out our suggestions on chores for kids for inspiration). Then set a payment amount—you choose how much—and tick the chore off when it's done!
Money management skills for life
Want to help your child understand the value of money? You can also use GoHenry as a weekly allowance app. Whether they're a spender or a saver, they can track their balance and learn budgeting skills as they go.
The value of earning
Interactive in-app Money Missions walk your child through where money comes from, how to earn it, how taxes work, and more.
GoHenry has boosted our girls' confidence to go shopping at the local store independently. It's helped us to be much more organized giving the girls their allowance on a consistent basis, and in a mostly no-cash world.
Fantastic learning tool for my two boys on how to manage money. They are 11 & 9 yrs old and they understand the value of things and appreciate money more.
This a fantastic way to get children to understand and appreciate allowance and saving! My son donates a small amount each week to charity via his app and he did this entirely on his own! Wonderful!
Make saving a habit
Your child can set savings goals with their GoHenry app, teaching them valuable skills for the future.
Paychecks straight to your teen's account
Teens 14+ can share their account details with their employer and get their paycheck paid straight to their GoHenry account with Direct Deposit.
Frequently asked questions
What is an allowance app?
The GoHenry allowance app is designed to easily teach money skills to young people and nurture their money confidence as they grow. The account includes a customizable debit card, app access, and a companion parent app. This gives you full transparency into your child's account, plus the option to send allowance on repeat, assign chores, and more. You can even set spending limits and receive instant notifications every time the card is used for full peace of mind.
Can an allowance app encourage kids to do chores?
Yes! We know that kids (and adults) respond to incentives, and the GoHenry app offers an easy way to reward kids for doing chores. Simply set tasks in-app, and choose the payment amount per task. Earning money for chores can help to increase a child's confidence and independence as they learn the value of earning and how to manage their finances. Not all families choose to pay their child to do tasks—a chore app still offers a structured approach to empower your child, and gives them the satisfaction of ticking off completed tasks.
What are the benefits of giving kids chores?
Introducing your child to household chores is a great way to teach them about responsibility and independence from a young age. Not only do chores help to improve time management skills by developing a sense of routine, but they can help young people feel important and valued. Paid tasks can also help to set young people up for the world of work by teaching them about earning and money management. Check out this age-appropriate chores list for more about setting tasks in the GoHenry app for your kids.
GoHenry offers a 30 day free trial, after that there's one low monthly fee of just $4.99 per child per month. Or choose a family plan for $9.98 per month for families of up to four kids. This covers the GoHenry app which grows with your child and offers a range of smart features, plus interactive Money Missions to help them learn. You'll also receive benefits such as free card replacements and no foreign transaction fees. Check out the pricing page to learn more.
What age is the GoHenry allowance app for?
The GoHenry app is created for young people ages 6-18, and is designed to evolve with them as they grow. The teens account offers new features to support their financial journey. They can send and request money with parental oversight, while young people with jobs also have the option to receive wages directly into their account via Direct Deposit.
Join for free & start learning instantly
Debit card + app + Money Missions
30 days free, then plans from $4.99 a month*
Get started today
Order your card today & start your 30-day free trial, then it's just $4.99 per child, per month. For families with up to four kids, it's just $9.98 per month. Cancel anytime.