If your love language is not gift-giving, finding the right present for the special kiddo in your life can be time-consuming and challenging. Trying to select the right gift can be even more difficult for grandparents or family members who don't know what your child is into, or what they may already have. This is where GoHenry Giftlinks can help.
Giftlinks work like an e-gift card for kids. Family and friends can send money straight to your child's GoHenry debit card without having to create an account of their own. Each link is totally secure, free of charge, and allows the gifter to add their own personal message.
"I just like that it's easy to use for her and for me. Love the Giftlink. Love allowance, tasks, savings. Love that I can set limits." Brandy
Creative ways to use Giftlinks
Giftlinks are great for birthdays, special events, or just because—no special occasion required! No more having to answer the question, "What does your child want," or wonder how you're going to make room for more toys.
Here are some of the creative ways members of the GoHenry community are using Everyday Giftlinks:
For payday.

Create an Everyday Giftlink that your kids can use to

get paid for babysitting

, selling lemonade, or mowing lawns. Your kids can simply write the link on a poster, card, or invoice.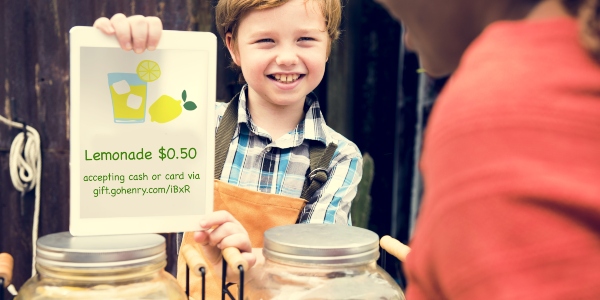 To collect from the Tooth Fairy.

The Tooth Fairy no longer needs to carry cash or change. Just leave the link and Tooth Fairy can send money straight to your kids' debit card.

To reach a savings goal.

If your child is saving for a big purchase or fundraising for a school trip or sporting event, invite family and friends to contribute.
How to create a Giftlink?
To create a Giftlink, follow these simple steps:
Log in to your parent account and tap "Money" at the bottom of the screen, then "Giftlinks."

Choose from an "Everyday Giftlink" or a special event
Once you create the Giftlink, you can share the link on birthday invitations and send it to, family and friends. Remember: If you are giving your child a GoHenry card as a gift, make sure to activate the card so funds sent from family or friends come through right away.
Gifters can send any amount between $2 and $350 at a time. A child can receive up to $1000 per month from all their Giftlinks and Relatives accounts.
What's a Relatives account?
It's an option ideal for grandparents and other family members who send your kids money regularly. Using Relatives, families can log into their account, view all the children using GoHenry in their family, and instantly transfer money or send a gift. They may also join multiple GoHenry families.
Utilizing Giftlinks and Relatives offers the added convenience of gifting money directly to kids' GoHenry cards. Allowing family and friends to contribute as kids learn to manage their money, earn, save and gain valuable financial experience from having their own debit cards.
Do you have a fun story of how GoHenry helped with creative gifting? Reach out to us via email, Facebook, Twitter, or Instagram.