Twelve-year-old Savannah and her sisters, London, 10, and Summer, 9, may not be old enough to have jobs, but they're already earning, spending, and saving their own money. Their mom, Andrea Ferguson Peterson, says that while each child has a bank account, the girls' money was not easily accessible. They weren't able to keep track of their balance or set up any savings, and they relied on her for account updates.
All that changed when Peterson set up the kids' debit cards from GoHenry. The girls are now responsible for their own money and making their own financial decisions.
"They're learning a lot," the mom of three explains. "You can't really compare [it] to the bank that they don't have access to. Now the girls know how long it's going to take to save up for a $1,000 device. You just can't really put that into perspective if you don't actually see the money there."
As Savannah, London, and Summer each set their own goals and work toward meeting them (with Peterson's help), here are some of the conversations that have come up.
Finding Ways to Earn
The girls earn a base allowance, and they also have 16 "bonus" chore options that they can choose from to make more. "It just sort of became a fun way to say, here's how you're going earn your money," Peterson says. "Then we came up with fun ways of how you can double your money with ideas or finishing a passion project."
Learning to Save
As the girls make their own money, they choose how much to save and how they wish to spend some. Savannah says she mostly saves up for devices she wants, and Summer saves for devices and room décor. London studies fencing and saves up for her fencing gear and equipment.
All three girls have enjoyed setting savings goals and watching their savings grow through the children's debit card app. "When you add a goal, it tells you how much more money you need to get there," Summer says.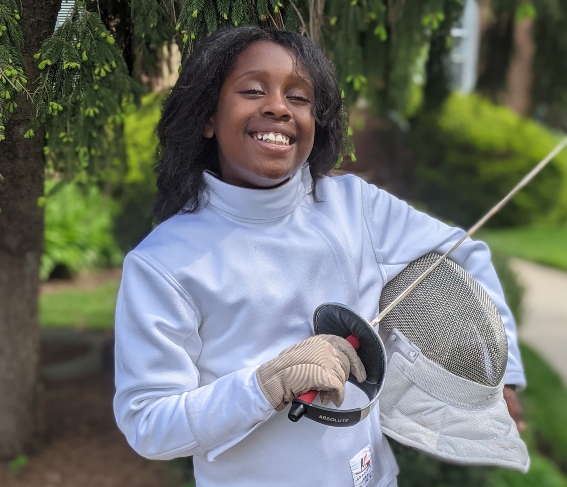 Learning to Budget
It's important to save, but Peterson also lets the girls know it's OK to spend too. "If you're 12 and you want to spend all your money, that's OK because you've worked for it," Peterson says.
While the girls are free to spend their money, they do have to budget their spending. Peterson gave each girl a spending limit of $25 per day, regardless of how much money they've saved. Sometimes they'll borrow money from each other if they need to go over their limit to purchase something they've been saving for.
"It teaches them to think ahead," Peterson says. "They'll say, 'In two weeks, I'm going to have enough to buy this or that.' They're learning to plan and spend accordingly."
Developing Responsibility
Because the girls must complete chores to get paid and meet their saving and spending goals, they are also learning responsibility. Along the way, Savannah, London, Summer, and their mom are having lots of important conversations about things like whether chores are completed and whether they should borrow money from each other.
"I feel very confident that if I've sent them somewhere if they were to go to college next week, I think they would be OK," Peterson says.
While her goal is to teach the girls financial lessons, Peterson appreciates that the children's debit cards make it fun. "Right now, it's about practice and making sure they feel good about their relationship with money," she says. "They're busy, there's so much they have to do for school. This can't be another thing to deal with or, learn and master. So I want to keep it fun."
So far, it seems to be working. "It's really fun to learn about how money works in the real world," Savannah says.
Have a great GoHenry story to share? Tell us about it, send an email to [email protected]