When you're choosing the best debit card for kids, you've probably got one overarching concern: How much is it going to cost? Yes, GoHenry members pay a monthly fee of $4.99 per child - roughly the price of a takeout coffee. This fee allows us to continue offering, improving, and expanding on the services and features available with your subscription. That includes your child's debit card, financial app, and built-in educational component - Money Missions.
However, we know that's a pretty standard spiel, so here's more information about our fees and why parents are saying it's worth the cost.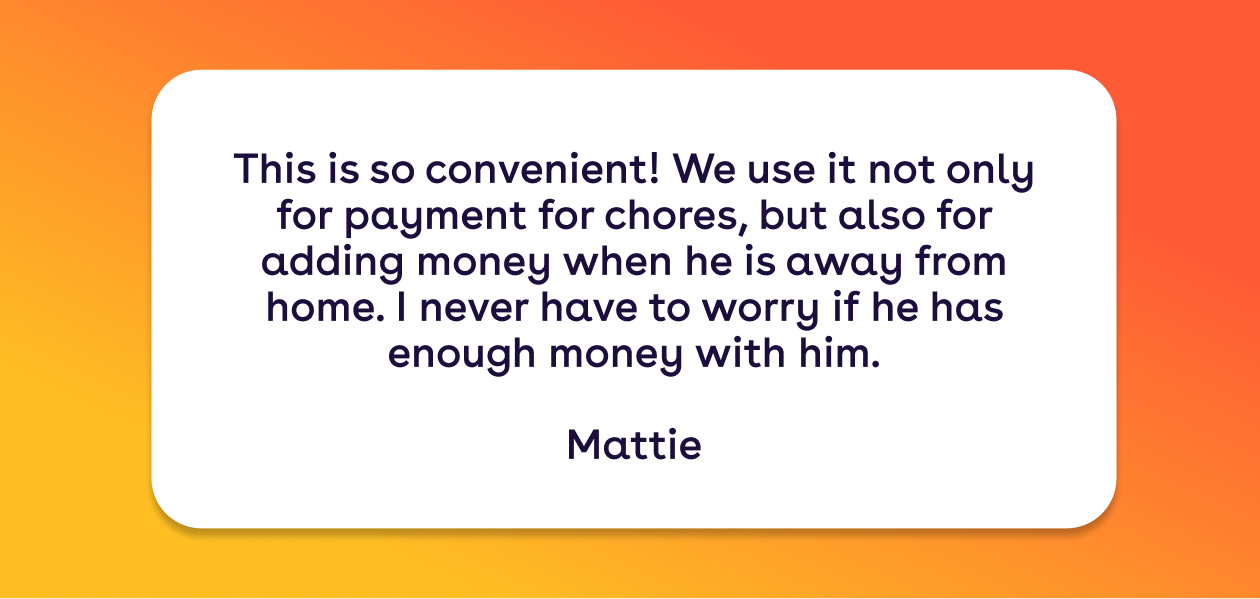 How much does GoHenry cost?
As noted above, the monthly fee for GoHenry is $4.99 per child, per month (taken out of your parent account, not your child's). This charge allows us to keep growing and adding new features for our member families.
Beyond the monthly fee, there is a $1.50 fee when your kids withdraw cash from the ATM. (Just like other banks, to get them ready for the real world!) That's on top of any fees charged by the ATM itself — so if your child withdraws $50, they'll likely need around $55 in their account ($1.50 GoHenry fee + $3.50 ATM fee).
What do you get for no added costs?
The list of things with no added charges is longer! Here's what you get free with your GoHenry account:
Your child's debit card is included for free (you may choose to get a custom card for $4.99)

Adding funds to your parent account

Transferring money to your child's debit card

No fear of overdrafts—kids can only spend what they have in their account

Replacing lost cards

Using the debit card internationally (just be sure to check the

MasterCard Currency Converter Calculator

for the exchange rate)

There are no contracts or time constraints. To get started you need to fund your parent account with a $5 minimum deposit (plus the cost of the custom card if you chose it.)

After that, you can fund the account with a minimum of $2 a time. We also offer a

free month-long trial

, so you can make sure our service is right for you before paying the subscription fee.

Access to in-app financial learning lessons
Here's how Sereika described her experience, "Awesome!! My boys look for things to do to help out now, app is easy to use, low maintenance fee, and can use anywhere. Can't beat it!"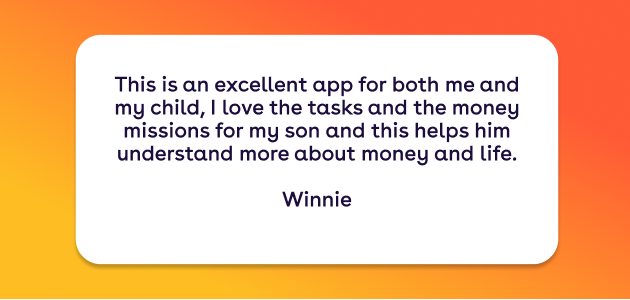 Some more reasons why GoHenry is worth it:
1. It's financial literacy in action
Our debit card for kids is an all-in-one solution for developing financial literacy. Kids receive their very own debit card, plus access to an innovative app with plenty of resources to help them learn about earning, saving, spending, and giving.
Although GoHenry has robust parental controls (more on that below), kids also gain a high degree of independence. They can check their balance, set and track savings goals, and use their debit card to make purchases in person or online.
It's all about empowering kids, says one of our members, Ann. "It gives my child a sense of responsibility. She knows that what's in the card is hers and makes her really think about money and what she wants to spend."
2. Customizable parental controls
We know you want to encourage financial autonomy, but we also know you want to maintain some control.
We've worked hard to strike a perfect balance between those two needs. GoHenry's parental controls let you monitor your child's activity, as well as set limits on how much your child can spend and where they can spend it.
You can rest easy, for example, knowing our children's debit card works only at child-friendly retailers. You'll also get real-time notifications any time your child spends money (or any time a transaction is declined).
"I like that I receive alerts on all transactions," says GoHenry member Gabriel. "It's so easy for me to transfer money onto my daughter's card, and I can easily change her spending limits and keep track of her transactions."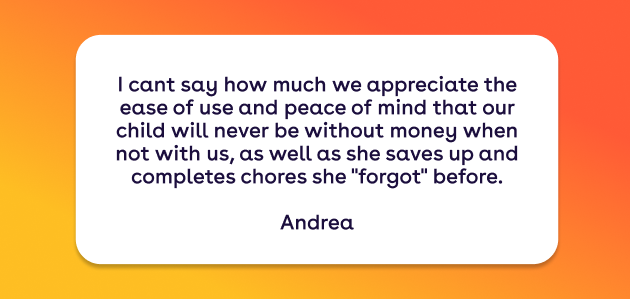 3. You can automate the allowance process
Want to teach your kids the value of hard work and easily monitor their allowance? With GoHenry's debit card for kids, you create chores and tasks that can tie back to an allowance or allocate as ways to earn extra spending money. You'll be able to set up automatic weekly allowances or send one-time transfers with the tap of a button from your parent account.
Brandy, is a big fan of all the different ways GoHenry teaches her daughter about money. "Opening this account is the best thing I could do for my child. She has learned so much, she is handling her own money and she started saving money. I was always forgetting to get cash to give her the allowance every week. With this app I have no worries anymore. It's just so easy to use."
4. So many more features
Our team is always working on new features for ways to Beyond our core features, GoHenry's got a lot of other reasons to fall in love as well:
Money Missions:

Developed with teachers and education experts, this

in-app learning feature

unlocks access to financial education games, quizzes, and videos.

Contactless transactions:

Your child's debit card is enabled with the latest tap-and-go technology.

Instant payments:

Kids can

send and receive money

from their siblings and parents with the GoHenry app. Teenagers can do so with their friends, too.

Live support:

We're available to answer your questions via phone, chat, or email, from 9 am to 5 pm EST, seven days a week.

Loss protection:

If your child loses their debit card, we'll freeze it immediately and replace the debit card for free if it isn't found.

Giftlinks:

Say goodbye to unwanted gifts! Loved ones can

easily send money

to your child's GoHenry account for their birthday or other holidays.
Not to mention the kid approval rating. "My son loves it! Even stopped asking me to buy him stuff especially for his Xbox because I just send the money to his card and BOOM he got what he wanted!" says Deosha.
Is a GoHenry debit card worth It?
You probably wouldn't blink at the cost of a $4.99 coffee or bagel run and unlike that coffee or bagel — which will be gone in 15 minutes or less — the money lessons kids learn from using GoHenry could last for a lifetime.
As another member, Barbara, put it: "This is a great tool to teach your children how to manage their money. They see how the real world works … how to spend your hard-earned money or save it. The lessons they learn and the knowledge they gain are priceless."
Jaqueta says, "I wish I'd known about GoHenry sooner, so get the card as early as possible!"
GoHenry members can refer friends and once your friend sets up their account, you'll each get money added to your account.
If you're new and are thinking about starting a free trial, learn more about how GoHenry works here.