When it comes to teaching kids about finances, it helps to engage them in a fun and positive way. Playing games that teach money management skills can help start the conversation with your child about deeper money topics. Some finance-focused board games can help kids learn about money topics like income, debt, real estate, investing, and planning for the future.
Here are some popular board games that can help kids learn about money:
1. Money Bags game
Kids learn how to count money and make change in this fun game using plastic coins and paper money. Build skills like recognizing coin value and adding money values together. While the game is recommended for ages 7 and up, younger kids can have fun learning and play with parental guidance, too.
Age range: 7+
Number of players: 2-4
2. The Game of Life
The Game of Life is a favorite game to teach kids about money because it allows kids to play out real-life money scenarios. From decisions about college degrees and career paths to income and retirement, Life offers a variety of ways to talk about finances and managing money responsibly.
Age range: 8+
Number of players: 2-4
3. Monopoly
Monopoly is a classic among money board games for a reason. While it can require a bigger time commitment, it teaches countless money skills in a way the whole family can enjoy. From "banker" responsibilities and counting money to bigger financial topics like real estate investing and income tax, Monopoly offers great real-world money examples. Simpler versions like Monopoly Junior are available, and countless themed versions kids love, like Mandalorian Monopoly.
Age range: 8+
Number of players: 2+
4. PayDay
PayDay offers an entertaining way for kids to learn about earning money and spending it. Teach kids money concepts like paying outstanding deals, budgeting, and even property deals.
Age range: 8+
Number of players: 2-4
Teaching kids money skills with games
Kids learn through play. Whether they are playing imagination games like store, video games, playing money board games to financial educational apps kids play on your (or their own) devices. Incorporating educational topics, like counting and understanding the value of numbers and money, can make teaching a fun experience for the whole family.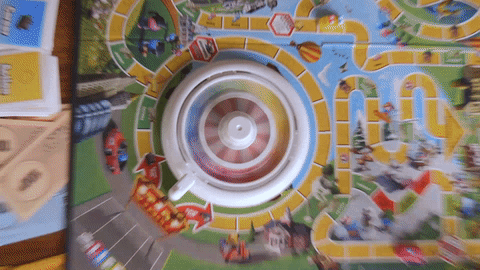 Have a great money board game we missed? Share your favorites with us by tagging @gohenry with #letstalkmoney on Twitter or Facebook.