A lifetime of financial learning starts here
Get all the tools to nurture financially healthy kids—a debit card, app, and built-in Money Missions. Kids learn in the app and by using their card, and you get peace of mind with features created for families.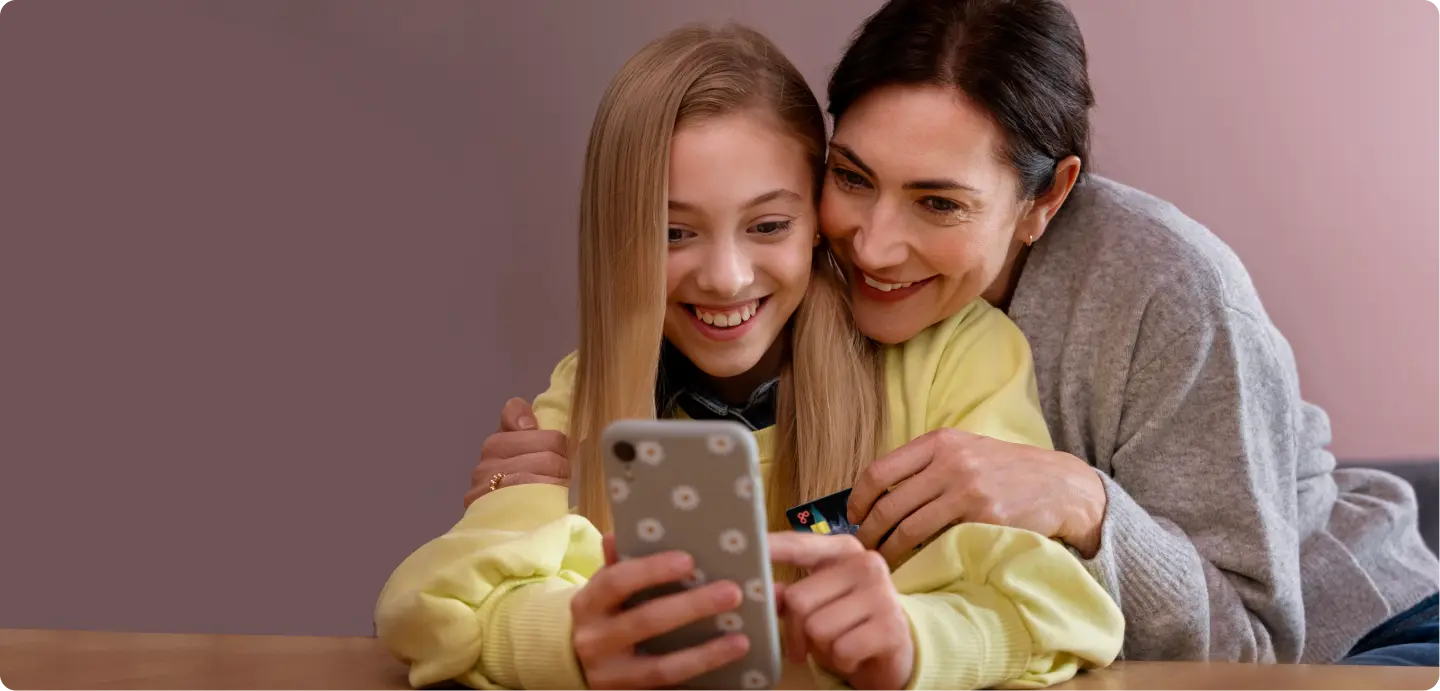 The smart financial app that grows with your kids
Guide, motivate, and encourage kids & teens with app experiences tailored to their age.

Plus, parents have a companion app, too. You can track progress, set flexible boundaries & goals, and get real-time spend notifications.
Accelerate their learning with in-app Money Missions
Kids learn skills through videos, quizzes and more in the app. As they unlock each mission, they'll make their way through the K-12 Personal Finance Education National Standards—earning points and badges as they go.
Choose from 45+ customizable debit card designs
Why parents love GoHenry
Add a co-parent to your account to set boundaries, receive notifications and manage chores together.
Easily set up weekly transfers—then help your kids plan to spend it wisely, set savings goals & more.
Set tasks and kids get paid when it's done. Cha-ching!
Parents and kids can set savings goals in the app, and work together to plan for future purchases.
Instantly send money to your child's account—for field trips, lunch or just because.
Get real-time spend notifications
You'll get updates whenever your child uses their card, and an alert if it's ever declined. Total peace of mind.
Easily block & unblock the card
You'll always have their back if the card is lost or stolen. Just block it in your parent app—then unblock if it's found again.
Parents can easily monitor spending, track purchases and get notified when kids use their card.
Decide where and how much kids can spend, and use your parent app to easily add or change the settings.
Payday, hooray! Teens with jobs can get their paychecks straight to their GoHenry account using Direct Deposit.
Teens can settle up, grab lunch with friends, and more. It's easy to send & receive payments in the app.
Help your child learn to give, using the app. You and your kids can make donations to the Boys & Girls Clubs of America to help kids who need it the most.
Relatives & friends can give directly to the card
With Giftlinks, family & friends can send money straight to your child's GoHenry card—for birthdays & celebrations or just because. Each link is totally secure, free of charge and gifters can add their own personal message. Kids can decide whether to spend it or save up for something special, then write thank-you messages straight from the GoHenry app.
Refer a friend & get rewarded
Love GoHenry? Share it with friends & get $50 for every friend that joins! Learn more in the app. Terms apply.
Designed for kids in partnership with
Your kids learn financial independence, you get peace of mind
Zero Liability Protection by Mastercard®
FDIC-insured accounts up to $250,000
Real-time spending notifications
GoHenry blocks unsafe spending categories
Chip and PIN-protected transactions
Secure PIN recovery in the app
Bank-level encryption
Easily block and unblock cards
Designed for kids in partnership with
Join for free & start learning instantly
Debit card + app + Money Missions
30 days free, then plans from $4.99/month
Get started today
Add up to four child accounts for $9.98 per month. Cancel anytime.