Our new research suggests that Generation Aspiration are ready to rip up the rule book when they enter the adult world of work. Their entrepreneurial attitude means that 25% hope to be their own boss in the future, and 24% say that this is a priority.
When asked about their career aspirations, jobs in IT, software, gaming, and app development are the most sought-after, followed by healthcare and engineering. However, our analysis reveals that Generation Z and Generation Alpha are underestimating their earning potential.
When asked about the minimum monthly salary that they would need to live comfortably when they're older, they gave a mean figure of $2,912.20 – which is substantially less than the average monthly US salary of $4,319, and the average graduate salary of $55,260 per annum, identified by NACE.
This underlines the importance of financial education, particularly as 80% of young people believe that having good money management skills will help in their future careers.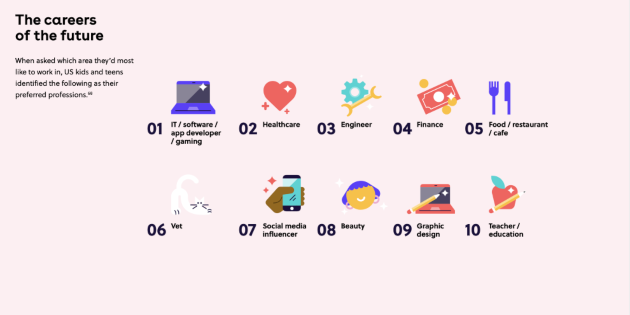 The careers of the future
Dean Brauer, co-founder, and President (US), GoHenry says: "In this robust economy, kids are looking at new ways to support their savings and spending goals. We see Gen Z and Gen Alpha taking on an increasing number of paid tasks and developing their business savvy in order to increase their earning potential. However, they earn a dollar, understanding the value of money is vital to a strong foundation of financial education. At GoHenry, our goal is to ensure that once they earn, they know what to do—and it seems kids agree. Over 80% say having good money management skills will help them in their future career. With our in-app learning tools like Money Missions, kids learn how to budget, save, invest, and spend their earnings responsibly."
Continue Reading:
Kids Are Earning Money in Innovative Ways
How Much Money Kids Are Making
1. Data was taken from a sample size of 52,068 GoHenry members in the US, who were active on their accounts between 1 January and 31 October 2021