In the US, allowance is usually paid on a Friday (34%) or Saturday (24%), and the average weekly amount received now stands at $11.17, which is a 16% increase over the 2020 average.
Despite this, slightly more than one-third of kids (34%) say they aren't earning enough, and believe they should be earning, on average, an extra $55 per month—but they're not simply expecting their parents to hand over extra cash. Almost eight out of ten kids (78%) now say that it's important to earn their own money—and even children who are too young to get a job are giving their allowance a boost by helping out around the house. In 2021, US kids earned a total of $3.1 billion from completing chores2.
Fortunately, there's no sign that the gender pay gap applies to young people aged 18 and under—in fact, girls currently earn 3% more than boys when we include their weekly earnings from their allowance, payment for completing chores, plus any Giftlinks they received ($11.33, compared to $10.99 for boys). Perhaps the century-old gender pay gap could finally begin to shrink when Generation Aspiration enters the workplace.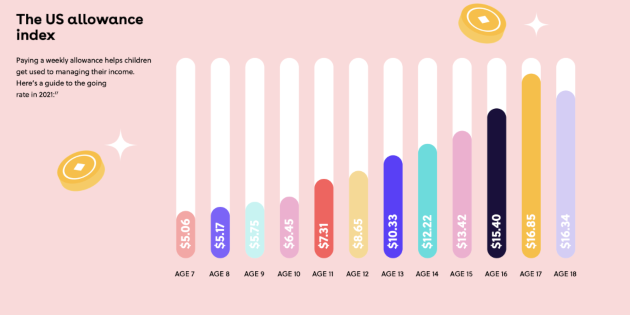 Continue Reading:
Kids Are Earning Money in Innovative Ways
How Much Money Kids Are Making
The Future of Work for Generation Aspiration
1. Data was taken from a sample size of 52,068 GoHenry members in the US, who were active on their accounts between 1 January and 31 October 2021
2. Based on 52,068 active GoHenry users in the US, between 1 January and 31 October, 2021. Upweighting was completed by calculating the earnings from chores per GoHenry member (who used the feature) and multiplying that by the total population of children aged 6-18 in the US. These population estimates were drawn from the US Census Bureau and UN Department of Social and Economic Affairs (2019).