Take a deep breath: this is when the teenage years really get going. In the run-up to their SATs, your teen will become increasingly independent: days out, shopping trips and socializing with friends will start to put a big dent in their spending money.
This is a good time to focus on their financial education as most teenagers struggle to manage their money and stick to a budget. Although they seem more independent, they'll still need your help to make sensible financial choices. Don't worry if they make the occasional mistake: focus on GoHenry's key pillars of money management – Earn, Save, Spend and Give – to get them back on track.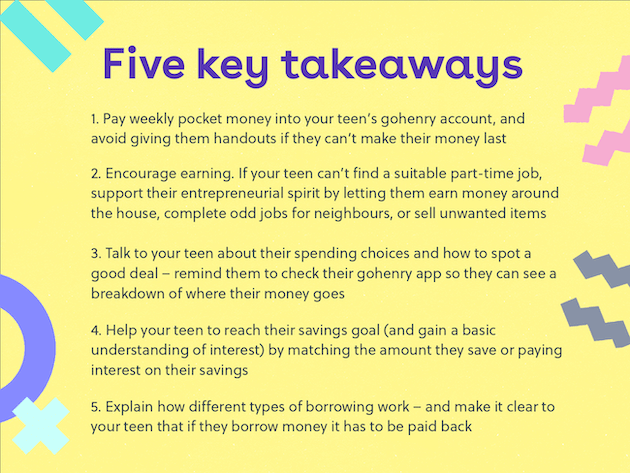 Earn some money
There's nothing like earning your own money: it creates a real sense of achievement, boosts confidence and opens up new spending choices. As an added bonus, teens are more likely to think carefully about how they spend their money when they've worked hard to earn it.
From the age of 14, teenagers are allowed to get a regular part-time job, although the number of hours that they can work will be restricted. Bear in mind that they might need your help to negotiate the going rate.
If there aren't opportunities for work in your area, encourage your teen's entrepreneurial spirit and suggest other ways to make money, such as doing odd jobs for neighbors or selling their old clothes on Depop (although they'll need to do this via an adult's PayPal account).
You could also give them the option to earn extra money by helping out around the home. It's easy to set up a payment for tasks on your GoHenry app, and they'll earn an extra payment when their chores have been marked complete.
The GoHenry Money Guide is designed to make financial education easy.
There's a guide for every age group, so click on the links below to find out what your child needs to know next:
The GoHenry Money Guide: Five important money lessons
The GoHenry Money Guide: Financial education for 5-7 year-olds
The GoHenry Money Guide: Financial education for 7-11 year-olds
The GoHenry Money Guide: Financial education for 11-14 year-olds
The GoHenry Money Guide: Financial education for 16-18 year-olds
Become a critical consumer
Your teen is now old enough to think more carefully about what they buy – and explaining how to spot a good deal is the first step in teaching them how to be a critical consumer.
As a first step, ask them to think about their spending choices. Does three-for-two work out cheaper? Do they need all that data on their new phone contract? Is it worth paying $5 for delivery when they could Click & Collect for free?
Questioning what they're being sold and how much they're paying for it will get your teenager into the habit of shopping around, reading the fine print and comparing rates – all of which will help with their future financial decision making.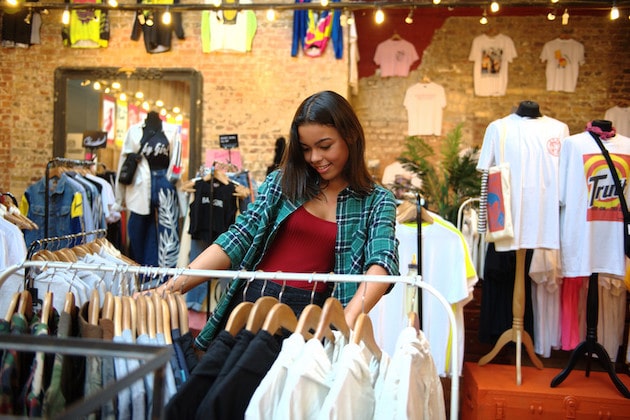 Stash some cash!
Teens have expensive tastes: the latest tech, must-have clothes and concert tickets don't come cheap, and the cost far exceeds the average allowance. Fortunately, you can explain that these purchases are within their reach: all they need to do is set a savings goal and save a portion of their weekly or monthly income.
If they're saving for an expensive purchase, like a new phone, encourage their efforts by matching the amount they save each week, or paying interest on their savings. This means that their savings will soon grow, especially if they include Christmas and birthday money, so it won't take long to reach their goal.
Scary as it sounds, it won't be long before they start thinking about buying their first car, or planning a gap year – so now's the time to get them into the habit of saving for the future.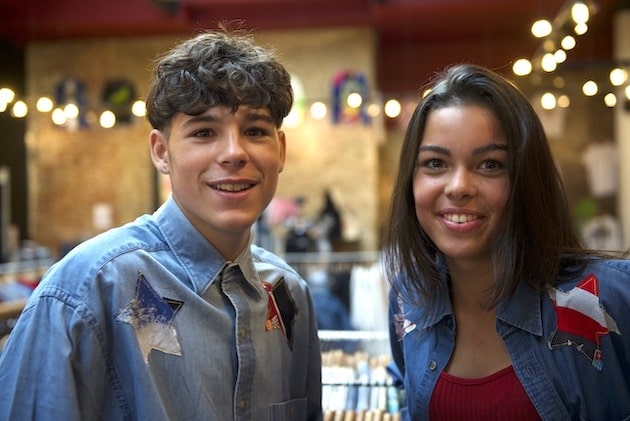 Talk about ethical spending
Teens are well aware of the importance of sustainability – after all, their generation is driving the environmentally-friendly changes that retailers are slowly putting into practice. But it doesn't hurt to question how they square their love of fast fashion and fast food with their support for the campaign against climate change.
Resist the temptation to lecture and try to find an aspect of ethical spending that your teen can relate to. For example, you could encourage them to buy better quality items that won't fall apart in five minutes, even if this means spending more money. You could also suggest that they buy preloved or vintage clothes rather than shopping for fast fashion at the mall or online. If they can't resist fast food, remind them to choose shops, cafes and restaurants that follow higher animal welfare standards, treat employees fairly and avoid plastic packaging.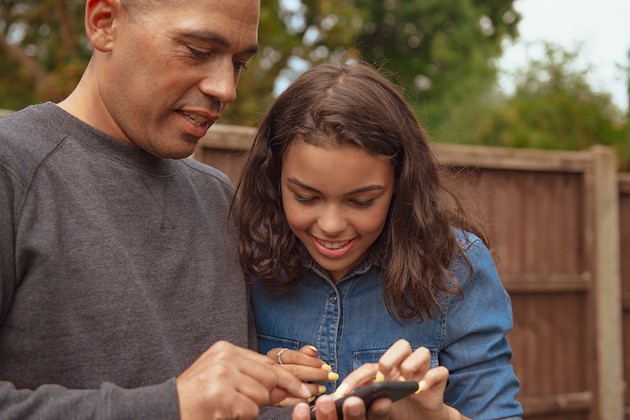 Discuss debt
Most teens' first experience of borrowing and lending takes place between friends and family. There's every chance that they're already struggling to navigate the rules of lending money to friends and, sooner or later, they're bound to ask you if they can borrow some cash. If you say yes, it'll probably come as a huge shock when you ask them to pay it back!
So if you do lend your kids some cash, it's vital to ensure that the money is repaid – otherwise they won't understand the difference between a loan and a handout, or learn the consequences of getting into debt.
Take the opportunity to talk to your teen about different types of credit and how they work. Explain that added interest means they'll have to repay more than they borrowed – and it causes huge stress if they can't make the repayments. Remember, it won't be long until they're eligible for student loans, overdrafts and credit cards, so they need to understand how to use them responsibly.