Here at GoHenry, we are very excited to be partnering with the Benjamin Talks team on our shared objectives of providing families with tools to nurture money confidence. Benjamin Talks is on a mission to make all families financially fit through purposeful products, accessible content and impactful giving. Founded by four moms (three financial professionals and one former teacher), Benjamin Talks aims to create the next generation of money-smart, market-savvy kids and help take the taboo out of money talk.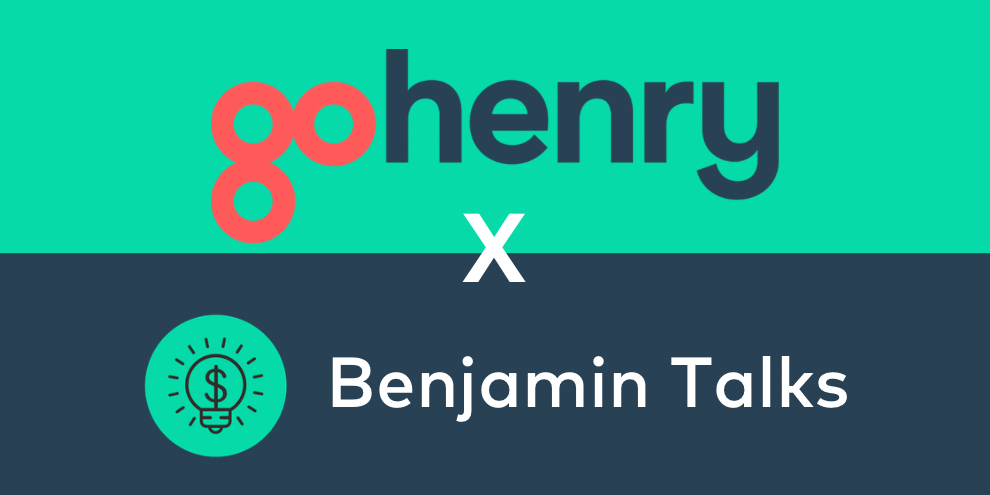 With 2 million members and counting, there is no doubt GoHenry was onto something a decade ago when they launched a family-friendly financial platform to help the next generation build essential money-smart skills. "When it comes to money," says Benjamin Talk Co-Founder Nikki Boulukos, "we believe the most powerful way kids learn to spend responsibly, save thoughtfully and give purposefully is by doing so from the earliest age, when the stakes are low and mishaps aren't too costly." GoHenry makes learning-by-doing easy. "The GoHenry debit card empowers kids with the tools they need to navigate everyday money decisions," adds Benjamin Talks Co-Founder Carissa Jordan. "Overtime, these spending, saving and giving experiences help kids build a financial foundation for the future."
Financial Literacy for kids and parents, alike.
GoHenry offers families a powerful tool for learning financial literacy. Through their innovative app and website, kids can earn points and badges to complete Money Missions and build their financial fitness. From money basics to saving, investing, giving and more, kids can flex their financial muscles through expert-created, bite-sized missions that follow the National Standards for K-12 Personal Finance Education. "GoHenry's financial education component makes our finlit-hearts flutter," says Nikki. "It is more important than ever that kids build financial skills from the youngest age so they are set up for success as they grow."
Keeping kids on track.
When it comes to kids and their money choices, GoHenry also makes it easy for parents and caregivers to stay in the loop. Parents can track their child's spending, saving and giving decisions with real-time notifications. They can also set spending limits, block and unblock debit cards, and instantly transfer money to help kids navigate their spending, saving and giving needs on the go. "As a busy working mom, I appreciate that GoHenry makes monitoring my children's money activity so easy," says Carissa. "Parents have a lot on their plate these days and GoHenry's instant notifications give parents the support they need as kids gain independence in their spending, saving and giving."
The Benjamin Talks team believes that allowance is the most powerful tool in building a financial foundation, and GoHenry is allowance-giving made easy. By checking off chores through the app, kids can know what's expected of them in order to receive their weekly earnings. Parents can also help kids set savings goals to work towards, as well as get kids giving by setting up regular donations to kids in need through GoHenry's non-profit partner, the Boys & Girls Club of America.
Giving and getting made easy.
GoHenry debit cards are getting and giving made easy. Parents can seamlessly transfer money to their child's GoHenry account for weekly allowance, birthday bonuses and everything in between. Parents can also share a link through the GoHenry app with family and friends who might want to celebrate a milestone moment, big or small. From lost teeth, to stellar reports cards, to graduations and beyond, GoHenry makes it easy for family and friends to fund a child's spending, saving and giving goals.
Whether kids are receiving weekly allowance from parents or financial gifts from family and friends, parents should set expectations for money sent into their child's GoHenry account. From dividing cash (earned or gifted) to spending, saving and giving, to acknowledging gifted money transfers with a requisite thank you note, kids should know what's expected of them when it comes to the money they receive.
* * *
As an invaluable resource for financial literacy and a powerful tool to help parents start the money conversation, GoHenry helps kids build healthy financial habits for the future. GoHenry offers families the support they need to help kids navigate their money choices (either big or small!), and help them build a financial foundation as they grow.