If someone asked what your least favorite childhood chore was, you'd probably recall it in an instant. Maybe it was walking the dog. Or taking out the garbage. Or folding laundry.
And now that you're a parent yourself, you might be thinking about those chores — and wondering if your child is ready to take on some household duties of their own.
Is Your Child Ready for Chores?
Chores are an important part of early development. Not only do they teach responsibility, but they can also help your child feel like an accomplished member of the family.
For proof, look at the Harvard Grant Study, one of the longest longitudinal studies of humans ever conducted. As parenting expert Julie Lythcott-Haims said in her TED talk, the study showed that "professional success in life comes from having done chores as a kid, and the earlier you started, the better."
If you're reading this article, in other words, your child is probably ready for chores. Even at just 2 years old, children love nothing more than helping their parents, especially if the task is for "big kids only."
So allow toddlers to assist you with small chores, such as placing dirty clothes in the hamper, putting away toys and feeding pets. Doing so will give them a sense of pride, as well as instill good habits.
Just remember to be generous with your praise, and avoid redoing their tasks (even if the "made bed" looks rumpled). Focus on effort, rather than perfection.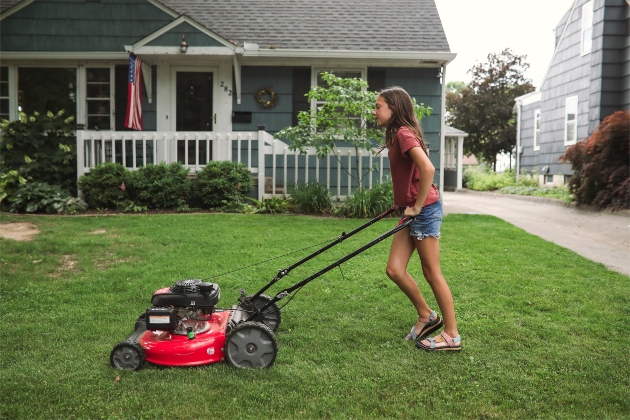 20 Age-Appropriate Chores for Kids Ages 7–12
As your children get older, you'll naturally want to add more chores to their plate. (Hopefully it won't be too much of a struggle since you started early!)
But which chores make the most sense? Which chores will challenge them without becoming overwhelming?
While the best chores for kids will depend on your household's needs and your child's abilities and interests, here are some ideas organized by age group.
Chores for 7-Year-Olds, 8-Year-Olds, and 9-Year-Olds
Setting and clearing the table

Raking leaves

Watering plants

Weeding the garden

Making their own snacks

Sorting and folding clean clothes

Sweeping

Tidying their bedroom

Putting away groceries

Getting and sorting the mail

Wiping counters
Chores for 10-Year-Olds, 11-Year-Olds, and 12-Year-Olds
Loading and emptying the dishwasher

Washing and detailing the car

Cooking simple meals

Taking out the garbage

Doing laundry

Cleaning the bathroom

Vacuuming and mopping

Changing their sheets

Shoveling snow
These are just guidelines, of course — you'll have to assess your child's physical and mental abilities to determine which chores are best for them. But as a general rule, your child is probably ready for more advanced chores than you think they are.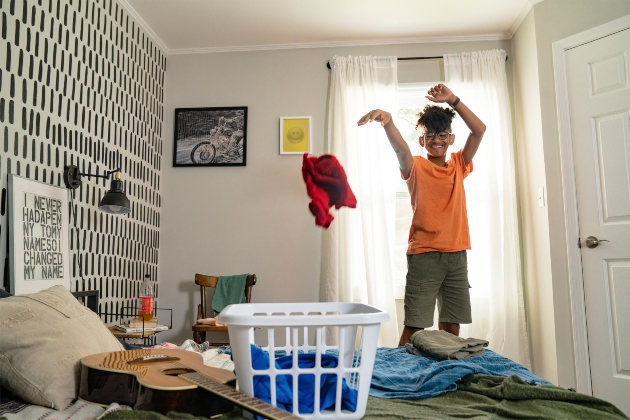 How to Set Up an Allowance for Chores
Once you've gotten your child's chore list sorted out, then you'll have to decide whether or not you're going to pay for them.
Some experts believe children should get an allowance for doing chores. Others feel that chores are part of a child's familial duties, and thus shouldn't be tied to an allowance.
Either way, many experts agree that allowances are good for kids. As the American Institute of CPAs puts it: "Your child's money mindset will be formed partially by observing you. One great way to have a positive influence, even if you're still on your own personal journey to financial security, is by paying an allowance."
So, whether or not chores are involved, offering an allowance can be a wise parenting move. And doing so is a cinch with GoHenry, the kid's debit card and financial management tool.
GoHenry allows you to digitally pay your child's allowance, create special tasks that let them earn additional income, and teach valuable money skills — all within one easy-to-use app.
The only thing it can't do, unfortunately, is make taking out the garbage any more pleasant.