The kids' savings account with a twist
Confidence is key. Watch your child's independence grow as they learn money skills first-hand with their very own child savings account.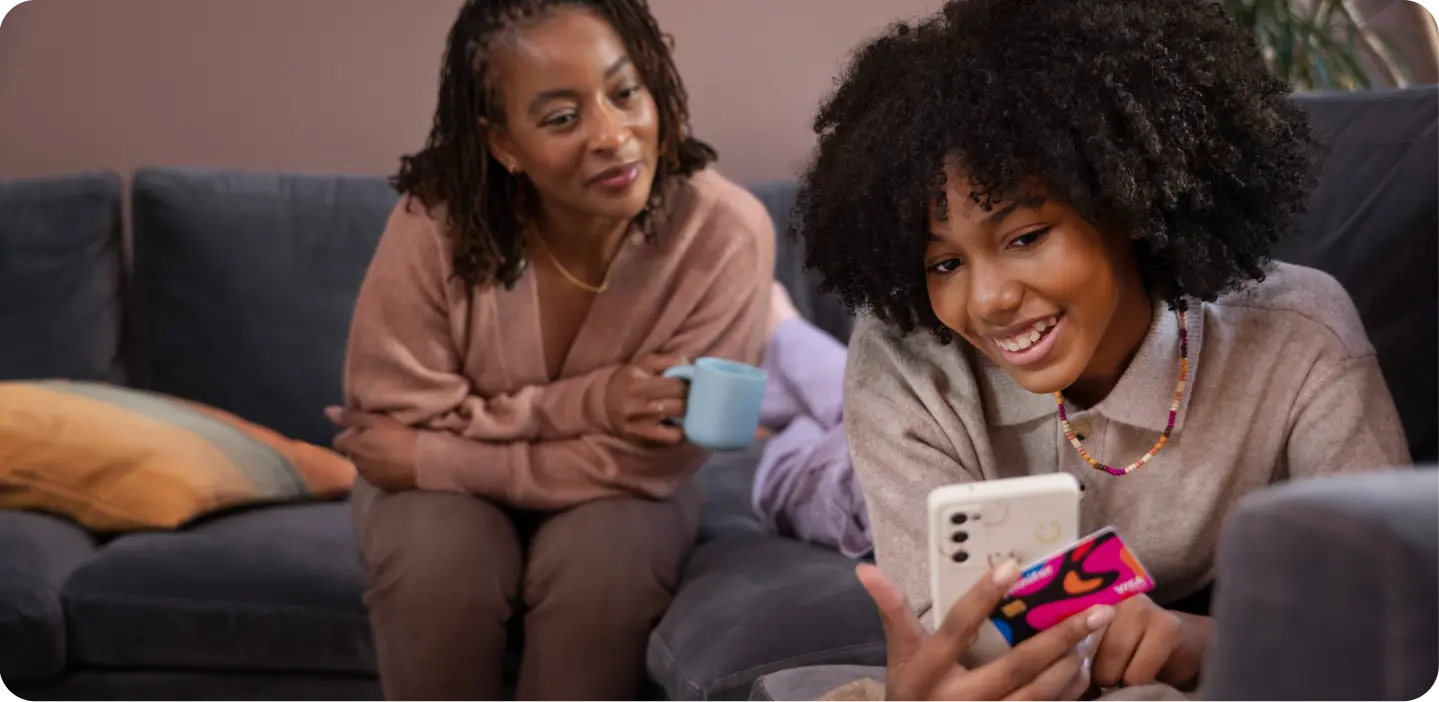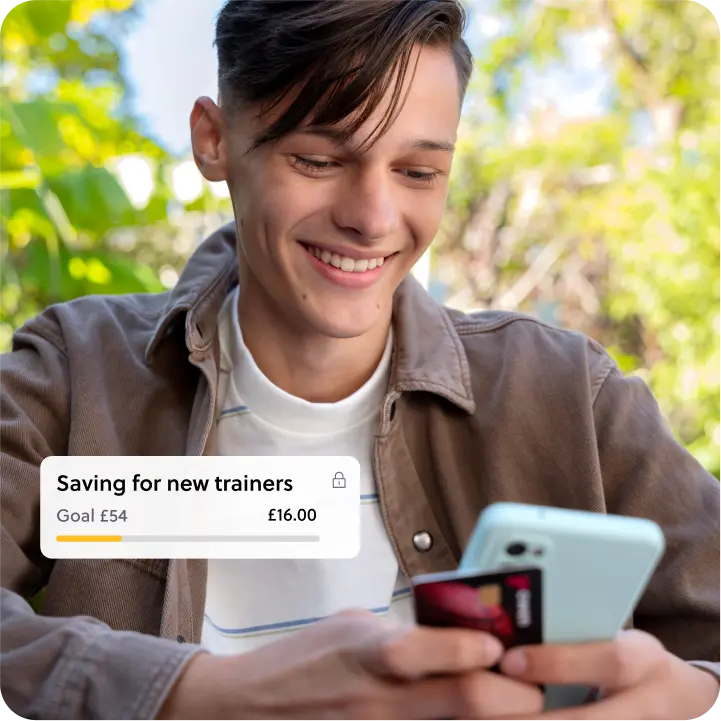 Set them up for success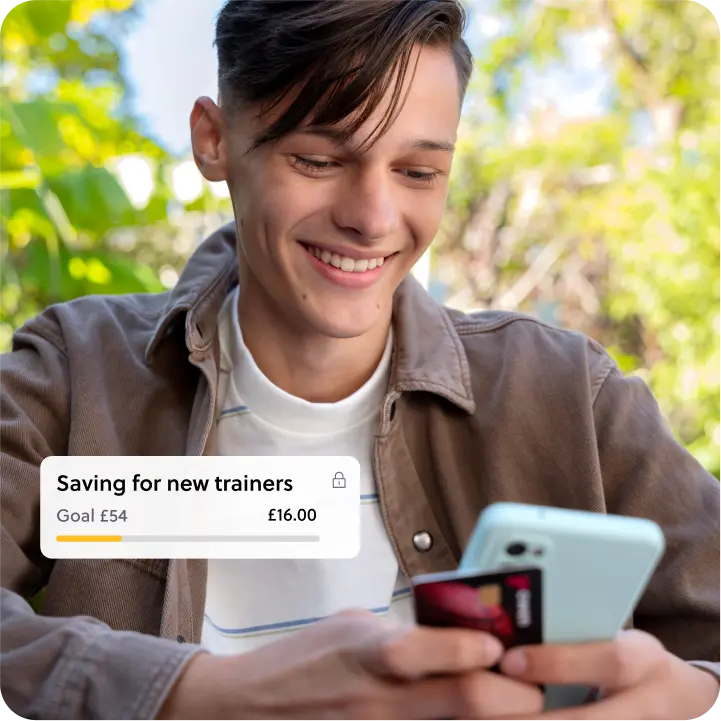 GoHenry helps make saving a habit by putting your child in charge. Kids can use their app to easily set savings goals with target dates and an optional autosave feature.

And of course, you're there just in case. You can choose to lock in your child's saving goals—and unlock them again once they've saved enough to buy those trainers they love.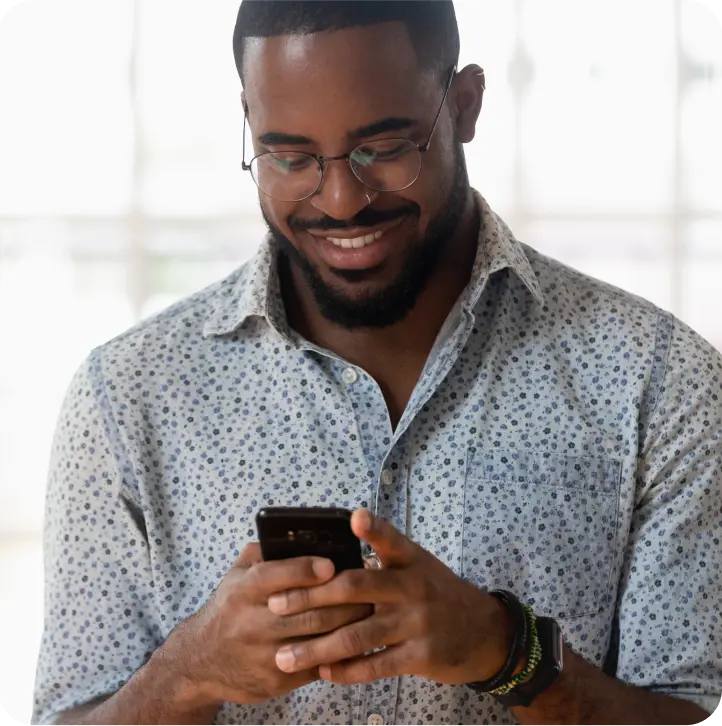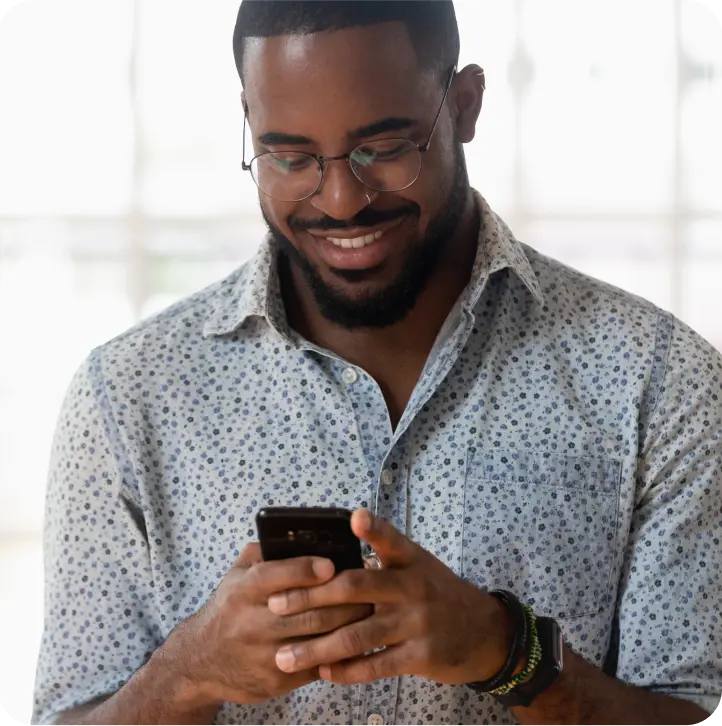 Invest in your child's future
Using your GoHenry parent app, you can also open a Junior ISA for your child. Invest from just £1, and manage their funds with real-time updates.
Parent-paid interest—it's a GoHenry thing!
To incentivise your kids, you can add parent-paid interest to your kid's savings account.
Use your in-app interest calculator to decide the rate you want to set and adjust it at any time.

Take a look at the estimated balance after 12, 24 and 36 months based on two different parent-set interest rates:
| Initial savings amount | Parent-paid interest rate | Balance after 12 months | Balance after 24 months | Balance after 36 months |
| --- | --- | --- | --- | --- |
| £70 | 5% | £73.59 | £77.36 | £81.33 |
| £70 | 15% | £81.33 | £94.48 | £109.77 |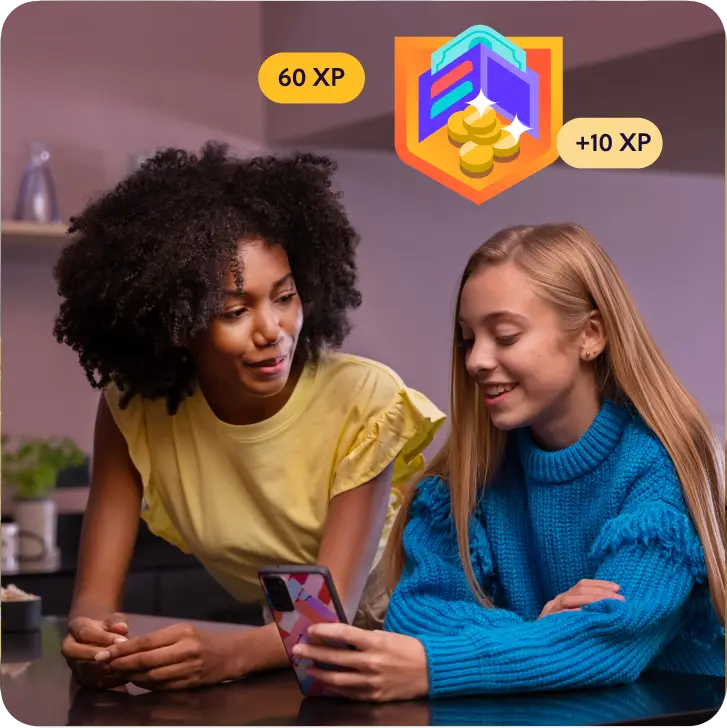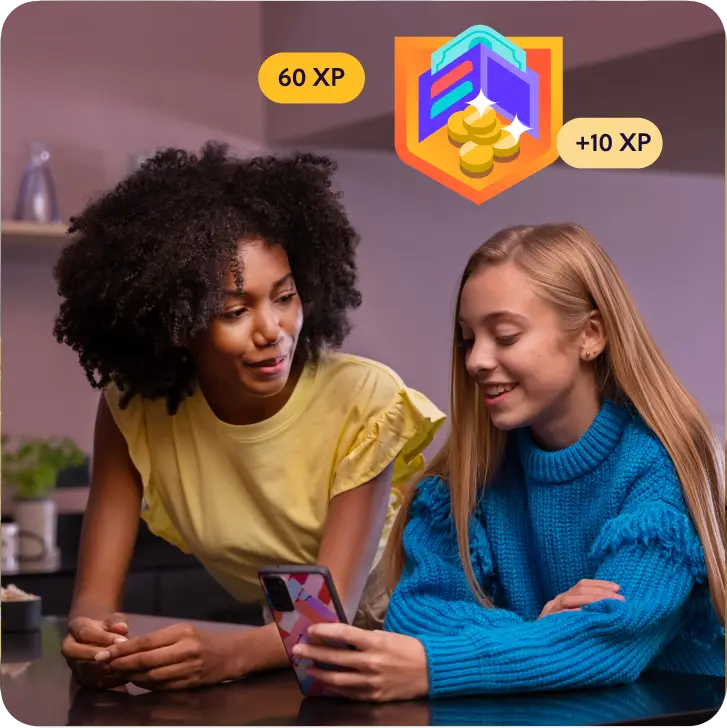 Make saving a habit
With easy-to-follow lessons, videos, and quizzes, GoHenry Money Missions help your child learn the value of saving money and setting goals.
Love this!! It has really helped our boys manage money properly and the importance of savings (which isn't easy for 13 yr olds—money usually burns a hole in their pockets, but they've enjoyed seeing the money mount up!) It has great missions for them to learn all about how money works.
The app is easy to use, I find it helpful that there are missions on how to manage money and you can also set up saving goals and it moves the money into the savings goal so you can't accidentally spend it! Honestly love GoHenry, and would 100% recommend.
My 6-year-old absolutely loves GoHenry, he checks his balance every Friday once he has done his tasks for the week, loves to see his savings going up every week and actually has started asking to help more for some extra pocket money.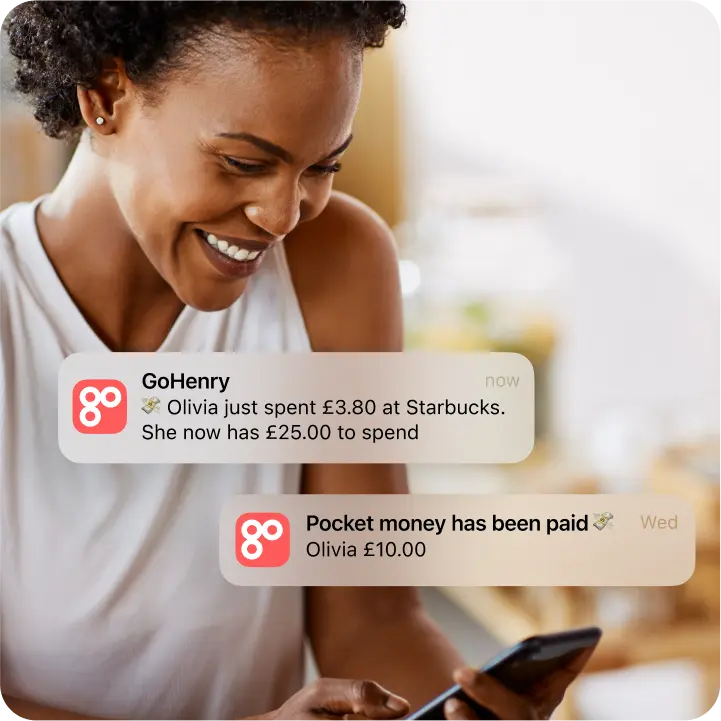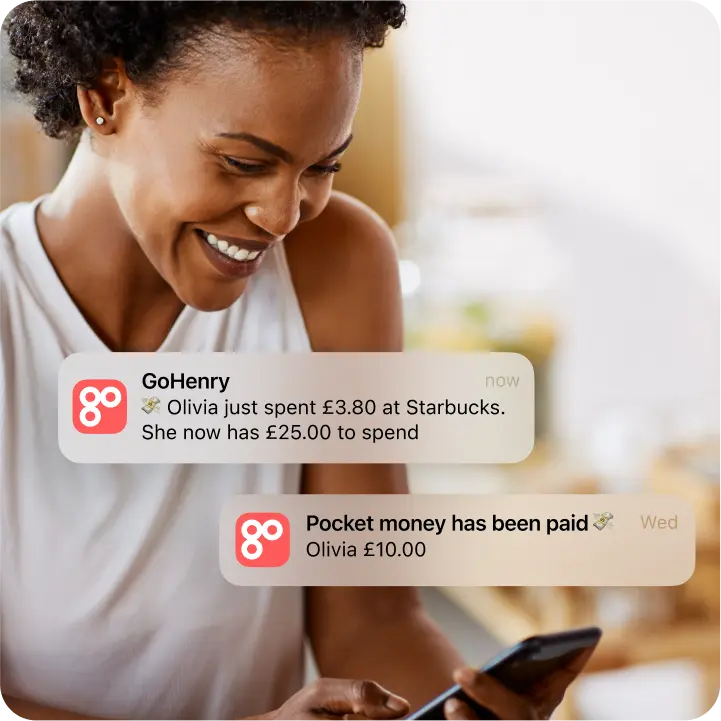 Full transparency into your child's account
Get real-time spending notifications and set flexible parental controls with your GoHenry parent app.
Frequently asked questions
How do kids and teens set saving goals within the GoHenry app?
GoHenry encourages kids and teens to easily create in-app savings goals, helping to make saving a habit.
Using their app, kids can:


Name their new goal
Choose an image for their goal
Set a target amount (if they have one)
Add a target date (if they have one)
Turn on an optional weekly autosave
Can kids and teens withdraw the money they save?
That's up to you! You can lock a savings goal or your child's regular savings using your GoHenry parent app.

If you choose not to lock these, your child can instantly transfer money from any of their savings goals to their debit card.
Can I lock my child's savings?
You can lock any of your child's savings goals in your GoHenry app. This prevents them from withdrawing any money from it unless you choose to unlock it, helping them to create a habit of saving without any temptation.

You can also open a Junior ISA for your child in the parent app by investing as little as £1. Your child can't withdraw these funds until they turn 18.
What is the interest rate?
With GoHenry you can set up parent-paid interest on your child's account.

Simply set your chosen interest rate in the parent app, and they'll get paid interest on their savings once per month—the more they save, the more they'll earn.

GoHenry does not pay interest on kids' savings—this interest is paid out of the parent balance and can be adjusted in-app at any time.
How can I turn on parent-paid interest in the app?
To turn on parent-paid interest:


Log in to the GoHenry parent account
Open the 'Money' tab and select 'Savings'
Use the interest calculator to decide the rate you want to set. It will show you how much you might pay each month according to a daily calculation.
You can adjust the rate in-app at any time
Find out
how parent-paid interest is calculated here
.
Join for free & start learning instantly
Debit card + app + Money Missions
30 days free, then £3.99/month
Get started today
Set up your card in minutes. Cancel anytime.