At GoHenry, we have a unique insight into young people's spending choices, which gives us a fascinating overview of their habits, lifestyle and priorities. Teenagers are known for starting – and following – trends, and in 2023, their shopping habits are driving a resale revolution that has the potential to transform the way we shop and establish a more sustainable future.
Thanks to their commitment to global climate strikes, which were attended by more than 1.4 million young people worldwide, we already know that Generation Z and Generation Alpha are leading the way on sustainability issues – including fashion. On TikTok, the hashtag #sustainablefashion has 3.5billion views, and research shows that the second-hand clothing market is predicted to grow 127% by 2026, reaching a value of $84bn by 2030.
As a result of this focus on sustainability, young people are actively looking for alternative ways to enjoy fashion. Last year, GoHenry cardholders in the UK spent a total of almost £3.5million on sustainable shopping – an average of £44 per person among those who make sustainable shopping choices*. This is 24% more than they spent in 2021 – and retailers are responding to demand by making it easier than ever to buy preloved clothes.
"Our data on sustainable shopping suggests that the way young people shop is shifting," says Louise Hill, COO and co-founder of GoHenry. "It's encouraging to see them exploring platforms like Depop and Vinted where they can both buy and sell clothes, helping to prevent waste and establish a circular economy."
The rise of social shopping
Shopping has long been a social activity for teenagers. But while this used to mean spending Saturday afternoons with friends at the local shopping mall or the high street, it's now just as likely to involve buying and selling on 'social shopping' platforms like Depop and Vinted.
Social shopping combines an online marketplace with a social network. On these platforms, buyers and sellers can easily connect, follow, swap messages, and buy and sell from each other, creating an online shopping community. Some, like Facebook Marketplace, mainly connect buyers and sellers within a local area, but others, like Depop and Vinted, are global.
Charlene Hurlock, co-founder of kids' clothes-swapping platform SWOPERZ, says: "There's so much more to SWOPERZ than a place for kids to swap clothes – there's a verified and sustainable community to enjoy. Our UK-based platform offers a safe space for children to hang out, learn to use digital currency and discover their own style."
Our data shows that last year, GoHenry kids and teens spent £635,350 at Depop. Those who shopped at Depop each spent an average of £58.76 in 2022, which is a 78% increase on the previous year. With more than 32 million items for sale, and up to 140,000 new listings each day, there's plenty to choose from. One third of all 16-24 year-olds in the UK are registered on Depop, and there are now more than 26 million users across over 150 countries, 90% of whom are under the age of 26.
"Teens now live on their smartphones. Their whole world is on there – friends, gaming, even school work – so it makes sense that they buy and sell on them, too," says Lynnette Hecker, former fashion editor and owner of Lovely's Vintage Emporium. "It's so easy for them to hop on to Depop and buy a top, wear it that weekend, and then take a selfie the following week and pop it back on Depop and sell it for the same price (or more) that they paid for it. It's the ultimate sustainable marketplace."
Vinted is another popular social shopping platform, which has a community of over 75 million people in 16 markets across the UK and Europe, the USA and Canada. In 2022, GoHenry kids and teens spent £761,385 with Vinted: an average of £45.22 per sustainable shopper – and a 24% increase in 2021.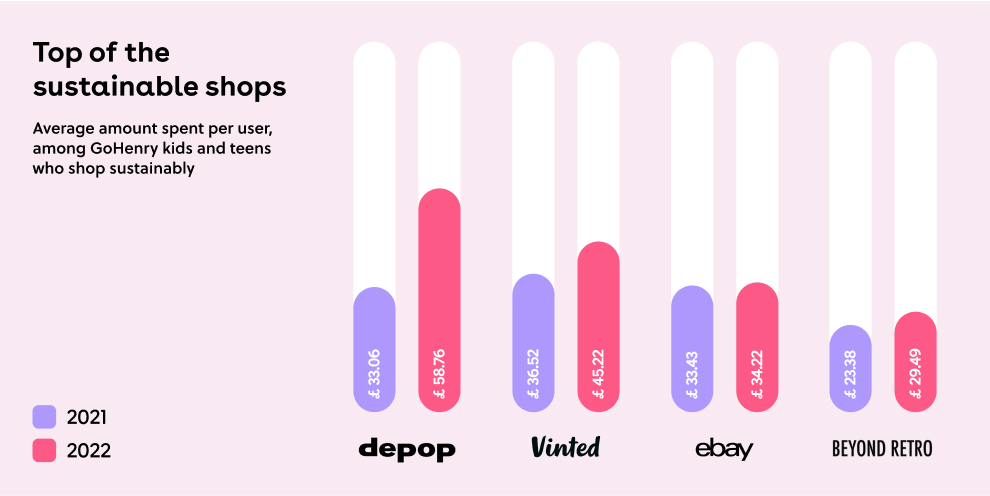 Resale made easy
Shopping for preloved or vintage fashion used to demand time, dedication, know-how – and luck. It involved hunting for bargains at car boot sales, markets, or second-hand shops, where it's notoriously difficult to find what you're looking for in the right size.
Recommerce (buying and selling previously owned items) was made easier by the emergence of online platforms like eBay – the original peer-to-peer marketplace. Almost 30 years after it launched, eBay is a go-to destination for fashion and reported one second-hand fashion sale every second in 2022. In addition, eBay's partnership with the dating game show Love Island boosted searches for 'pre-loved fashion' on the platform by 700% in summer 2022.
As a result, eBay continues to be a popular shopping destination for young people, even though they can't open their own account until the age of 18. GoHenry Kids spent over £2 million on eBay in 2022, with an average annual spend of £34.22 per eBay customer.
However, GoHenry cardholders' average annual eBay spend increased by just 2% per user compared to 2021, which, compared to the more significant increase in spending at Depop (where 13-year-olds can open an account), shows that social shopping platforms now have the edge with Gen Z and Gen A.
A new way to shop
Given the success of social shopping platforms, mainstream retailers are finally catching on to the appeal of resale. After all, it not only offers a sustainable solution, but it's also cost-effective – which is an important consideration during the current cost of living crisis.
"I know one teen who buys all her holiday clothes on Depop and then sells them all when she gets back from her trip," says Lynnette. It means she barely spends any money. It's also much cheaper than buying new pieces – particularly premium brand names that they love, such as North Face."
At a time when many stores are struggling, with teen favourites like TopShop, TopMan and Miss Selfridge disappearing from the high street, the vintage clothing chain Beyond Retro is expanding across the UK and now has 15 stores – including a new store in London's Westfield shopping mall. GoHenry kids and teens are fans: they spent £12,742 at Beyond Retro in 2022, with an average spend of £29.49 per sustainable shopper, which is an increase of 26% compared to the previous year.
Beyond Retro isn't the only bricks and mortar resale store on the block: Depop already has a store in Los Angeles and hosted short-term pop-ups in New York and in Selfridges, London. The Absolut Swap Shop recently hosted a sell-out event in East London, and a former TopShop store in London's Brent Cross is now home to a Charity Super.Mkt pop-up.
All this means that older and more affluent customers are also beginning to change their behaviour. Middle-market brands like Cos, Toast and Joules are now reselling preloved fashion alongside their new season collections, and luxury brands like Net-A-Porter and Matches are doing the same.
If industry predictions are to be believed, over time, this shift towards circular fashion could help the fashion industry to finally move away from the traditional linear model, which ends at landfill – and we'll have sustainably-minded teens to thank for it.
*Based on transactions at eBay, Depop, Vinted and Beyond Retro.