It's been a year like no other, when all parents have had to juggle like never before. Reports suggest that mums have borne the brunt of this, and were more likely than men to lose work or take responsibility for homeschooling.
So this Mother's Day we're celebrating the amazing mums who are inspiring the next generation by setting up shop to follow their passions, generate a regular income and find flexible work that fits around their children.
We've teamed up with the mother of all marketplaces for mums in their first two years of business, ALL BY MAMA, to shine a spotlight on just some of the creators who are bossing it like a mum.
Read on for their stories and top tips for anyone looking to start up on their own.
Gemma Whates, founder of ALL by MAMA
Gemma Whates is the founder of ALL by MAMA, a community and marketplace for mothers who are running a business alongside raising a family. With mums underrepresented economically and often facing 'the motherhood penalty' that stops them from progressing in their careers once they have children, many are turning to starting a business. Communities like ALL by MAMA help build confidence, provide accessible role models, visibility and business skills.
Prior to launching ALL by MAMA, Gemma was a Director in a London marketing agency. When her first son was born, Gemma craved the flexibility that wasn't then accessible and knew she couldn't be the only mother feeling this way. ALL by MAMA launched as a marketplace and later grew into a membership community that supports mothers in the first year or two of starting a business.
Gemma has two boys, Leonardo and Cassius and runs ALL by MAMA with a small team remotely (a decision that was taken out of everyone's hands in 2020!).
Gemma says: "I'm passionate about supporting mothers who want to start a business that runs alongside family life. Running a business isn't easy, especially when you are also parenting, so community is essential."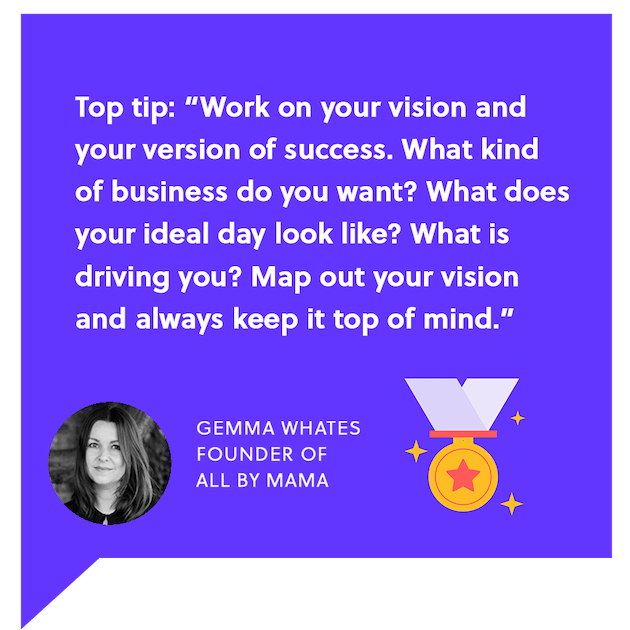 Suzanne Hemming, Author, Thea Chops Books
After over 15 years working in TV production and film audio post-production, Suzanne Hemming took a career break in 2013 to have her daughter Thea. After re-reading the books from her childhood, she felt disheartened by the old fashioned messages in so many children's books.
She explains: "Ariel gives up her voice, home and legs to marry a man! Cinderella? The prince is so busy being handsome and strong, he doesn't even recognise her once she's changed into day wear, yet one shoe later and she's agreed to live happily ever after!"
All joking aside, words are powerful, and the messages we send to our children now, will form their characters and stay with them forever. So Hemming put pen to paper, and started writing, weaving messages of equality, acceptance, inclusion and diversity into her work.
In late 2016, with one completed rhyming story and an illustrator ready to bring it to life, Hemming ran a crowdfunding campaign, set up a company called Thea Chops Books, and published her first book.
She's Not Good for a Girl, She's Just Good! went on sale in summer 2017 and has since gone on to sell over 3,000 copies. A second title, The Queen Engineer, followed in 2018 selling over 1,600 copies to date, and in October 2020, she published How Frank Helped Hank, a timely story teaching children, especially boys, that it's ok to feel sad, to cry and most importantly, to talk about it. All three of her story books have won awards in parenting magazines.
Suzanne says: "I'm passionate about children learning that what they like and who they are is not determined by their gender, and that being themselves is truly the best way to be. As the character Florence says in How Frank Helped Hank, «For good mental health you should just be yourself.» Words we can all live by!"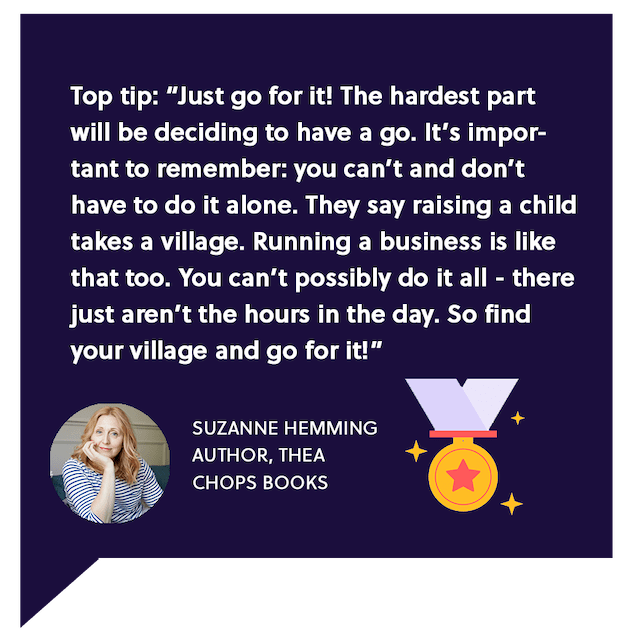 Jane Higgins, founder of Cashmere Duck
Jane owns sustainable gift brand Cashmere Duck, which sells modern gifts made or designed by Jane for both mum and baby. Products range from 'Little Pickle' organic baby grows, to ethical candles all emblazoned with relatable phrases such as 'I need sleep' and 'Give me energy'.
For the last 20 years, Jane worked in the corporate world travelling the world and looking after some exciting brands, but after the birth of her second son she decided it was time for a change. Seeing a gap in the market for gifts for both mum and baby, and knowing what a vulnerable time early motherhood is, Jane came up with the product range for Cashmere Duck. Her promise when she started out was to make sure she offered products that had as little impact on the environment as possible. All her ingredients and materials are carefully sourced and she only works with packaging suppliers that invest back into the environment. Jane believes that if we all make small changes to how we purchase, together we can have a big impact on the world we live in.
Jane says: "Running a business alongside two boys, especially during a pandemic, takes a lot of organisation, patience and willingness to put in the work. The biggest frustration is being time poor but, by being flexible with the hours I work, I have been able to grow the business."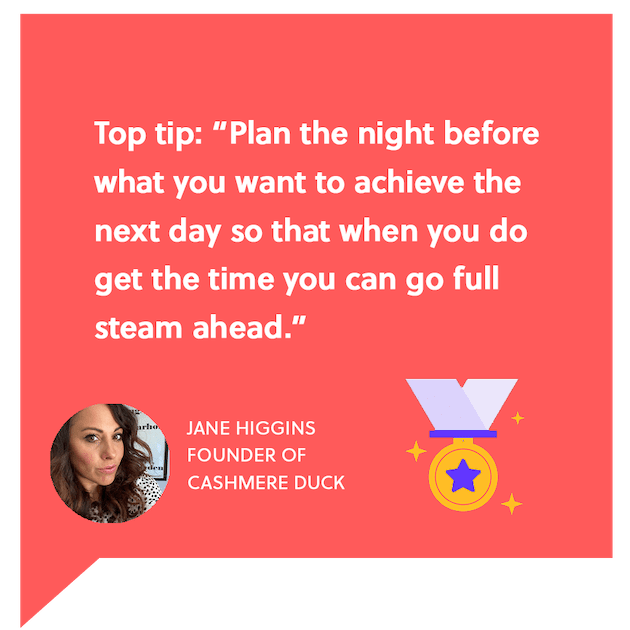 If you're inspired by these start-up stories, you can find out more about the ALL BY MAMA community here.