We're on a mission to make every child good with money, and that means making financial education a part of children's everyday life. As well as making it quick and easy to make regular pocket money payments, we've developed practical solutions to some of the most common niggles that parents face when it comes to kids and cash.
If you're fed up with forking out for toys that your child gets bored of within minutes (even though they really, really wanted it more than anything else, ever), regularly hand out extra cash to fund your teen's social life (they just need bus fare, and lunch, and maybe a milkshake, and a donut, okay?), or worry about your child blowing all their birthday money on gaming (what exactly are skins? And why do they cost £20?), then you're not alone.
We believe that kids learn by doing, and gohenry can help you to empower your child to make their own spending decisions – which is the most effective way to teach them about the value of money.
1. Pester power
Every parent has been on the receiving end of pester power, and kids have plenty of tricks up their sleeves when it comes to getting what they want. Maybe you've had to handle an embarrassing supermarket tantrum because you said no to a pack of sweets, or you've been charmed into buying the latest pair of trainers because your sweet-talking teen won't take no for an answer.
As tempting as it can be to give in, pester power doesn't help kids to learn about the value of money. In fact, it does exactly the opposite: how many of those longed-for purchases end up broken, lost or ignored within days?
gohenry can help to combat pester power simply by giving your child the option to buy the things they want with their own money. That must-have toy might not seem quite so appealing if they have to pay for it themselves, and there's a good chance they'll have lost interest by the time they've saved up enough money to buy that fashionable t-shirt or must-have bag.
If they're still determined to buy their longed-for purchase with their own money, it's a great way for them to flex their spending power. And if they ultimately regret their purchase, they're less likely to make the same mistake again.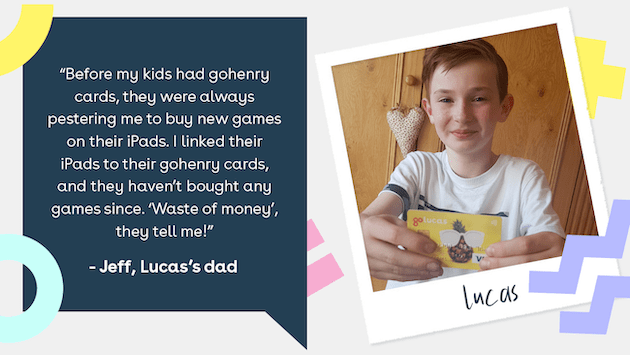 2. Gaming limits
Think back to your own childhood, when there was really only one way to learn about money: you paid with cash, received some change and saw your pocket money disappear before your eyes.
As a result, most parents are confident about teaching children about cash but, as we're becoming an increasingly cashless society, it's vital to help kids navigate the digital economy, too.
This gets especially complicated when kids spend their money on
gaming: they're not only making digital transactions, they're also buying in-game purchases, which only exist on screen. For this reason it's easy for them to get carried away as it doesn't really feel like they're spending real money.
If you're worried that your child will blow all their birthday money
on V-Bucks, gohenry can help them learn to spend sensibly. They'll automatically have a daily limit of 10 spends within their chosen gaming platform, and you can also set up personalised spending rules and limits within your gohenry app. This stops them getting too carried away, while also giving them some freedom to spend their pocket money as they wish.
3. Better budgeting
Paying weekly pocket money weekly is an important step towards teaching your child to stick to a budget. They'll struggle to do this if you hand over a few pounds every time they go out to meet friends – and they'll be more likely to make carefully-considered purchases if they understand they have a finite amount of money to spend.
It really doesn't matter how much pocket money you pay each week. What matters is that your child knows they need to make their money last. For this reason, it's best to be clear about what you expect their pocket money to cover, especially for older teens who might prefer to shop for their own clothes, stationery and toiletries. Remind your child to budget for Christmas, birthdays and holidays – and resist the temptation to hand over more money if they blow their budget.
Finally, encourage your child to keep track of their spending on their gohenry app. This makes it easier for them to see if they've stuck to their budget – and gives them a chance to cut back before they overspend.
4. Successful saving
Kids are all about immediate gratification, so it's hard to get them excited about saving. But setting up a savings goal is often all it takes to get them motivated – especially if you can incentivise them by paying interest, or giving them opportunities to earn extra money by helping out at home.
Saving for a purchase is also a great way to avoid impulse purchasing. After weeks – or months – of saving, your child will be proud and excited when they finally reach their goal. But you may find they've lost interest by then, and would rather hang on to the cash!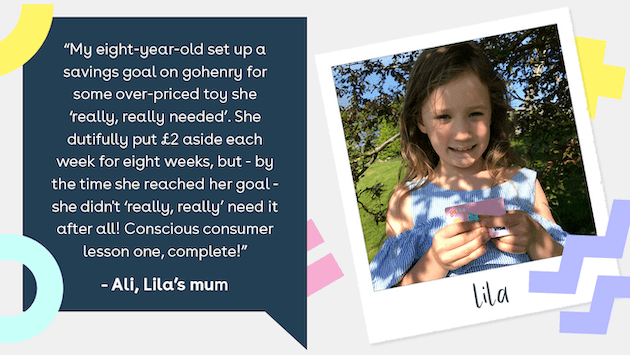 5. Great gifting
Family members can find it hard to buy birthday or Christmas gifts for children – especially as their tastes, interests and clothes sizes change so fast it's hard to keep up! And sometimes aunts, uncles, grandparents and godparents like to send a little something to celebrate a special occasion or achievement, like exam results or a sporting success.
We created giftlinks to make it easy to send money directly to a child's gohenry account, so they can top up their savings or decide what they'd like to buy. It's a more flexible option than sending gift vouchers, safer than sending cash – and you don't have to worry about gift wrapping!