Every time you load up your cloth bag at the supermarket, order your morning latte in a reusable coffee cup or take a sip from a stainless steel water bottle, you're taking an important step towards reducing plastic pollution.
Thanks to groundbreaking documentaries like Blue Planet II, we know all about the devastating consequences of the global plastic crisis – and many of us are already doing our bit to reduce our plastic consumption.
While it's great that we're making changes, there's much more that we can do.

A report from the Ellen MacArthur Foundation warns that the ocean is already filled with 165 million tons of plastic and, by 2050, the amount of plastic in the ocean will outweigh fish.
The average person living in North America or Western Europe consumes 100kg of plastic each year, mostly in the form of packaging – and this will exist on the planet for up to 1,000 years.
Plastic is disposable, but indestructible. So limiting our use of single use plastic items is the key to protecting wildlife, the oceans and the health of future generations.
Reduce, reuse, recycle
Campaign group Plastic-Free Me is on a mission to raise awareness of the global plastic crisis. Plastic-Free February started in 2017, as a way to encourage people to make small lifestyle changes to reduce their everyday use of plastics. Each year, there are three challenges to choose from: the first involves not buying or using 'The Big Four': plastic bags, plastic bottles, coffee cup lids and straws.
The second level of the plastic-free challenge is focused on avoiding wrapped food, plastic cutlery, plastic cotton buds and micro beads in toiletries and cosmetics. The third and final stage is more food-focused and involves cutting out plastic-wrapped foods and bread, milk bottles, microwave meals and takeaway containers. Although they accept that an entirely plastic-free lifestyle is impossible, Plastic-Free Me believes that every little helps.
For this piece, we've partnered with recyclable bamboo toothbrush subscription service Brushbox, as well as organic vegetable delivery service Abel & Cole, who deliver organic veg in sustainable packaging. Since 1998, Abel & Cole have saved at least 60 million plastic bags by using returnable and reusable cardboard boxes. Compared to organic fruit and vegetables from supermarkets, Abel & Cole deliveries use 92.86% less plastic.
So if you're keen to go plastic free, but don't know where to start, why not try these five simple ways to reduce your plastic footprint…
1. Take a packed lunch
If you usually grab a pre-packed sandwich or salad for lunch, there's a good chance that it comes wrapped in plastic. But, with a little planning, you could prepare your lunches at home and pack them up ready to take to work or school. That's got to be better than your usual supermarket sandwich, right?
An hour or two of batch cooking at the weekend is more than enough to set you up for the week ahead. Abel & Cole organic vegetable boxes contain a great mix of ingredients that you can use to prepare seasonal soups, stews and salads. As they're delivered in recyclable boxes, you won't have to worry about plastic packaging – and you can take your own metal cutlery, too. So that's three ways to reduce your plastic use in one go!
2. Switch to a sustainable toothbrush
According to Mike Donovan, CEO of Brushbox, 3.6 billion toothbrushes end up in landfill or in our oceans every year. He says: "Lots of toothbrushes on the market are overly manufactured and contain a mixture of materials that are difficult to dispose of. In particular, the combination of plastic and rubber is very difficult to separate and recycle."
Brushbox toothbrushes are made from carbonised Mao bamboo, an environmentally sustainable timber which is water resistant and antibacterial. They're also formally registered with PETA as cruelty free (the bamboo comes from a sustainable, panda-friendly farm in China 🐼) and with the Vegan Society. The brushes are fully biodegradable within six months, and can be put into the compost bin (although the bristles need to be removed first).
Not only that, every time a customer buys a toothbrush, Brushbox donates a free brush to a child in need and plants a tree on their behalf. "Swapping a plastic toothbrush for a bamboo toothbrush is one small change that can make a big difference," says Mike.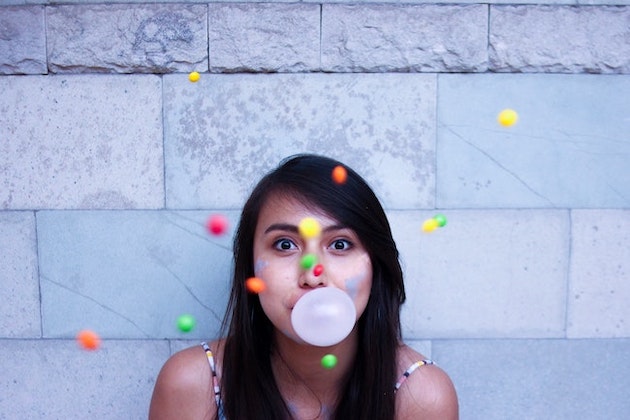 3. Say goodbye to gum
According to WWF, Britons are the second biggest consumers of chewing gum in the world, chewing around 130 sticks per person, per year.
If you rely on sugar-free gum to keep your breath minty fresh, you might be surprised to know that it's made from a synthetic rubber (aka plastic) and once it has been chewed and spat out, it ends up in landfill, being flushed down the toilet, washed into drains – or stuck to the bottom of your favourite shoes. Gum is the second most common type of litter (after cigarette butts), and it doesn't biodegrade. To make matters worse, many types of gum come in plastic packaging.
If you really can't face the thought of giving up gum, look out for plastic free alternatives made from a sustainably-harvested tree sap called chicle.
4. Try reusable wrap
Cling film makes it so easy to wrap sandwiches and store leftovers, which is why it's one of the most widely-used single use plastics. However, it has a huge environmental impact as it's made from polyvinyl chloride (commonly known as PVC), which is virtually indestructible. If it ends up in the ocean, it poses a risk to wildlife, who may get caught up in it or eat it.
Fortunately there are lots of alternatives that do a great job of keeping food fresh. Look out for silicone storage bags and wraps, which can stretch over all kinds of bowls and containers, or try beeswax wraps which are strong, reusable and totally compostable.
5. Buy refills
One of the easiest ways to reduce your plastic footprint is to refill rather than replace. Zero waste stores, which encourage customers to refill their own bags and containers, are springing up all over the UK – and even big name supermarkets are piloting refill schemes. This is a great way to shop for dried foods like pasta, rice and cereals, as well as fruit and veg, shampoo and household detergents.
Look out for refills for pens, printer ink cartridges, too – and consider buying refillable razor blades rather than disposable razors. It might save you some money, as well as saving the planet. 🌍
Brushbox delivers eco-friendly bamboo toothbrushes to your door every two months. To get 25% off your first six months with Brushbox, visit www.brushbox.com and use the code GOHENRY25. Offer ends 30/04/20. T&Cs apply.
Abel & Cole deliver delicious organic veggies to your door, in returnable or recyclable packaging. To get £10 off your first four deliveries, visit abelandcole.co.uk/ add the code GOHENRY at checkout. Offers ends 26/06/2020 and is available to new customers only. T&Cs apply.