Annual earnings of £4.5 billion. Spending to the tune of £3.9 billion. Savings of over £550 million. Our first ever Youth Economy Report gives unprecedented insight into the financial habits of Generation Z.
Today's children are living in a very different world to the one we grew up in. We're used to calling them digital natives, but they're digital banking natives too — and through their interaction with the digital economy we can see how much they're earning and how, when, and where they're spending (or saving) their money.
In our inaugural Youth Economy Report, we've analysed the financial habits of 75,000 British children aged 6 to 18 — and we've made some important discoveries. Not only is the youth economy booming, but their in-store shopping habits, sensible approach to saving and preference for using cards over cash, give us valuable insight into the future of money.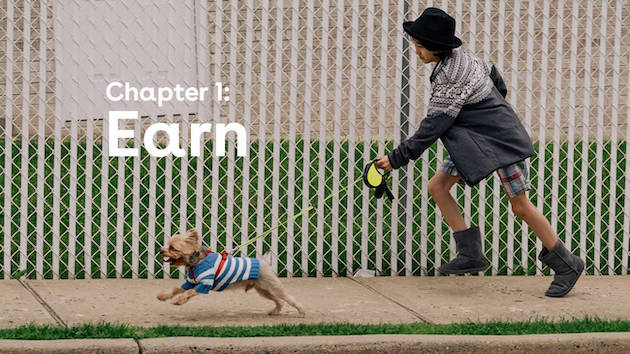 In 2018, British children and teenagers aged 6-18 collectively earned £4.5 billion from pocket money, ad-hoc gifts and payments for undertaking household chores, such as tidying their room or washing the dishes. On an individual basis, this equates to an average of £9, or £39 per month, depending on age and where they live.
We've also identified a pocket money pay gap of 5% among British children aged 8-15, with boys earning, on average, £20 per year (40p per week) more than girls (£440 vs £420). This pay gap peaks at the age of 11, when boys earn an annual average of £404, compared to girls' annual income of £371.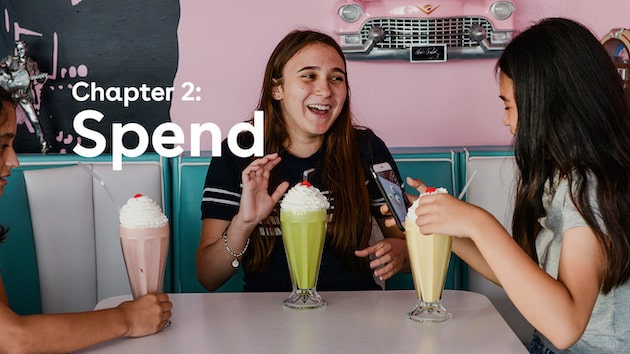 British children collectively spent £3.9 billion in 2018 — which amounts to 87% of their total income. Over half of their earnings (53%) were spent in store, rising to 65% among girls. In fact, 16 year-old girls collectively spent over £55 million in clothes and fashion stores in 2018, with New Look and Primark being particular favourites*.
Online spending is also booming, with British children spending a third (33%) of their earnings online in 2018 — almost twice that of adult online spending (18.2%)1. Boys spend almost half of their income (46%) on digital transactions, which is more than double the amount spent by girls (21%). This spend is driven by gaming, which peaks at age 13 when boys spent an average of £194 each on video games over the course of the year. Girls of the same age spent just £4.60.
Gen-Z card holders have very little need for cash and will almost always choose to go cashless, with only 14% of 16-18 year olds' money being withdrawn at ATMs.
"I think that the young people of this generation are going to be cashless natives, in the way that they are digital natives," says Dr Eliza Filby, generational expert and report contributor. "Although they are going to be the first cashless generation, it's wrong to assume that because they don't use cash they're not as educated, informed or conscious when they spend. This is a much more sophisticated use of money which wasn't available to millennials."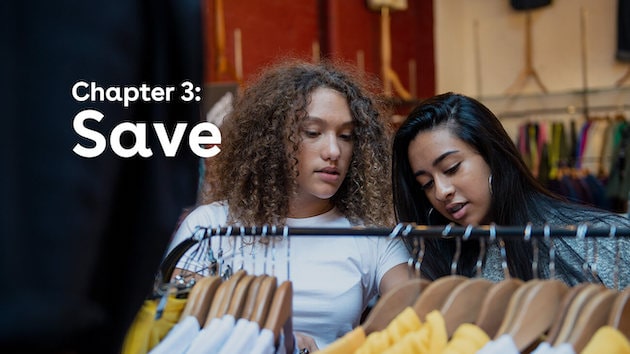 British children saved over £550 million in 2018, which represents an average individual saving of £62 per year, or £5.15 per month. This means that 13% of children's earnings remain unspent — almost three times higher than the UK Household Saving Rate at 4.8%2.
We discovered that the children who earn the least save the most: those in Wales saved the highest proportion of their income (14%), despite earning, on average, £147 per year less than the highest earners in London.
"There's every reason to believe that Gen-Z will be more financially empowered than the generations which have gone before," says Louise Hill, co-founder and COO of gohenry. "Learning to manage money is an essential life skill and as with most life skills, it's best to learn when you're young."
Read The gohenry Youth Economy Report 2019 to find out more.
Data was taken from a sample size of over 75,000 actively engaged gohenry card users throughout 2018 and combined by the UCL Consumer Data Research Centre with mid-year population estimates and other demographic datasets from the Office of National Statistics.
These findings were supplemented with data from the 416,473 gohenry users who were active during 2018. This means that they either received or spent money on at least one occasion during the year. When spending money, their age was recorded at the time of each transaction. Data taken from these figures is noted* throughout.
gohenry accounts only capture incoming payments from friends and family and, therefore, do not represent additional earnings made from formal employment or maintenance loans.
1. https://www.ons.gov.uk/
2. https://tradingeconomics.com/