The cost of living crisis is impacting us all, thanks to soaring energy prices, high inflation and the rising cost of food and other essentials. To get a sense of the impact this is having on families across the UK, we surveyed over 2,000 young people aged 6-18, and gathered data from more than 435,000 GoHenry kids' debit card and app customers. We then held a round-table event with GoHenry members to understand their thoughts and fears on the current cost of living – and get a sense of how families are adapting to these challenges.
Even if parents try to shield their children from their money worries, widespread media coverage means that many kids and teens are aware that families are facing increasing financial pressures.
Louise Hill, COO and co-founder of GoHenry says: "Many parents around the country are dealing with increased energy bills, food costs and other essential items. Children are very perceptive and this research confirms that kids and teens aren't immune to the pressures being felt by the squeeze on the economy."
We spoke to a group of GoHenry parents and kids, along with industry experts, including GoHenry's Louise Hill, and Rebekah Young, Senior Fundraising Manager from MyBnk, to find out more about managing family expectations, how kids are helping out – and the best ways to save some extra cash.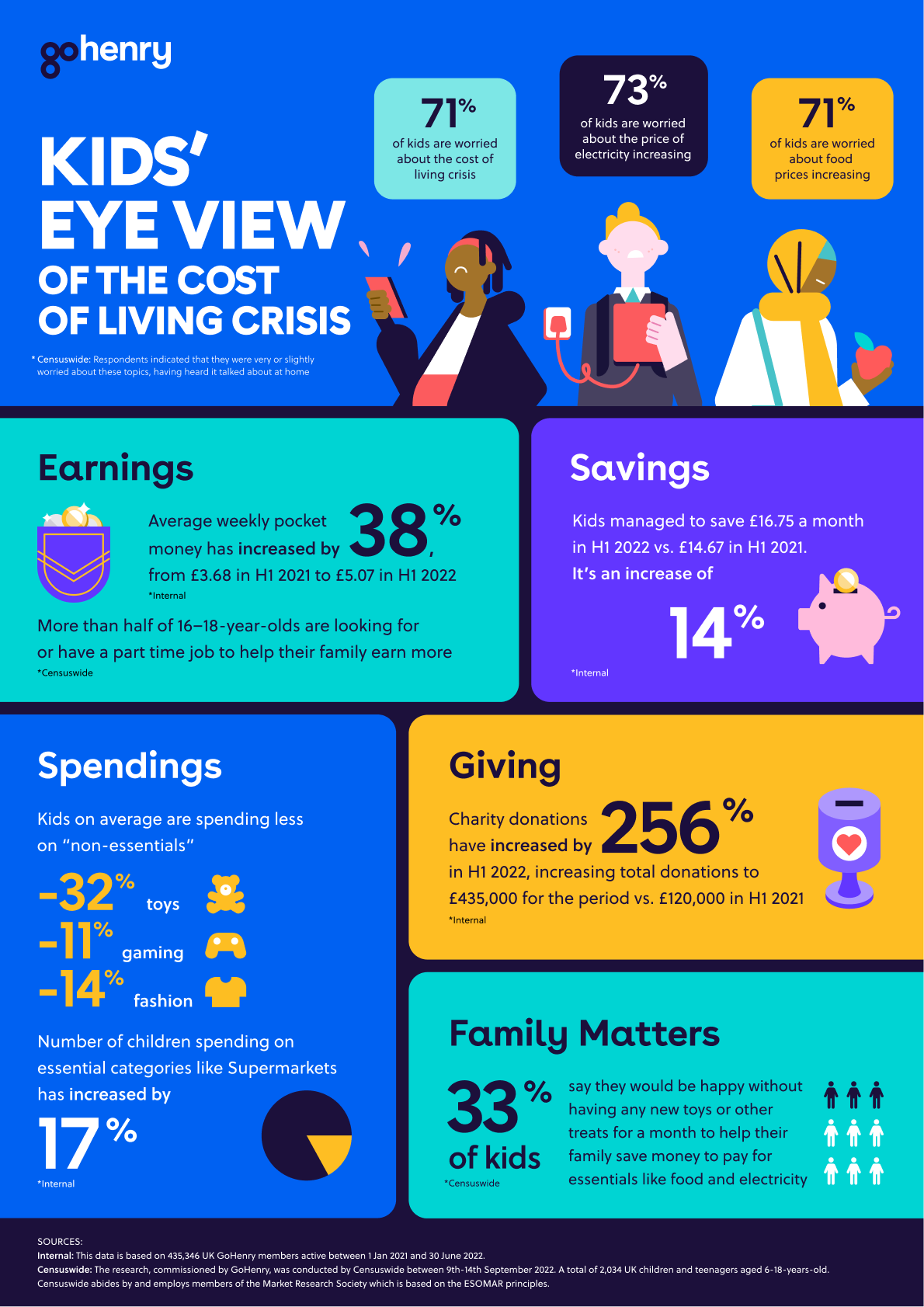 Talking to kids about the cost of living
Family discussions about expensive bills, rising food costs and cutting back on essentials are already causing concern among kids and teens, and more than seven out of ten kids and teens (71%) say they are worried about the cost of living crisis having heard about it at home – with 25% of nine-year-old children saying that they'd use their pocket money to help their families afford essentials like the food shop.
Our research shows that more than half of kids aged 6-18 (51%) have noticed their parents or carers are more concerned about money than usual, and many parents are now finding ways to explain to their kids that there will be fewer treats like takeaways, days out and holidays than they are used to.
Katie Handsley, from Aberdeen, mum to Madison, aged 10, told us: "As a parent, one of the difficulties about the cost of living crisis is finding the balance between making children aware of the financial challenges without increasing their anxiety. Each month can be a struggle, and with Maddie's Birthday and Christmas fast approaching, we are trying to make her aware that her expectations need to be different, while trying not to worry her."
Michelle Dickson, from Weston-Super-Mare, mum to Liam, aged 10 and Benjamin, aged 8, feels the same: "We don't talk too much about the cost of living as we don't want to worry the kids. What is helpful for us is that they are learning about money through Money Missions on the GoHenry app and saving their pocket money – it really teaches them to understand the value of what they want to buy."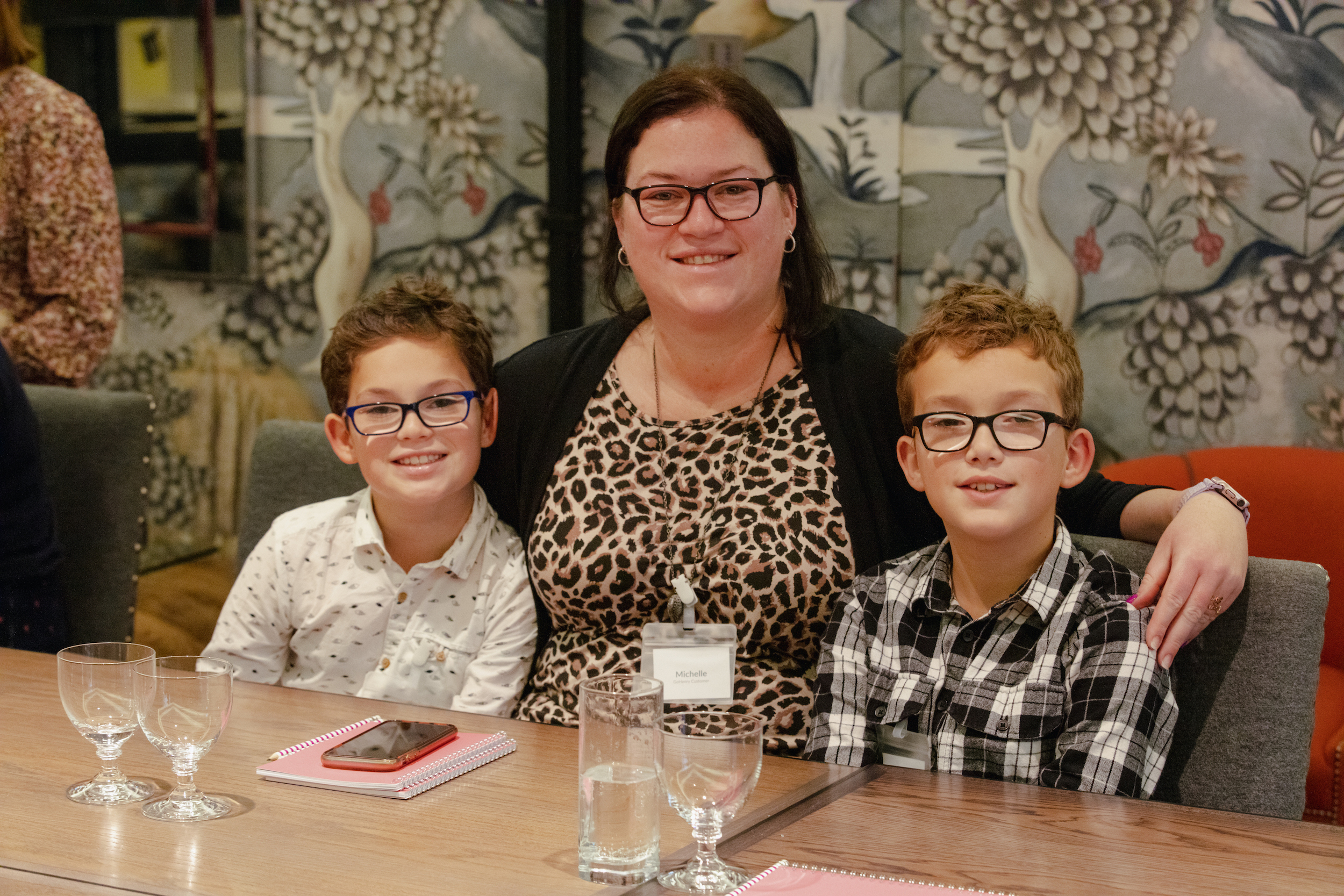 Prioritising financial education
While money issues can be a daunting subject to approach with kids, the current crisis does provide a good opportunity to start conversations around money skills, budgeting and saving.
Louise Hill, Co-founder and COO of GoHenry says: "Rather than shielding kids, get them involved with small day-to-day decisions like checking receipts after your food shop or shopping around for better deals. The more you can teach your kids about money and help them to understand the wider cost of living situation, the less worried – and more future-proof – they will be."
Rebekah Young, Senior Fundraising Manager from MyBnk, agrees: "We work with primary and secondary children directly in schools and know that they want financial education. The fact is, you don't know what you don't know. If no one has ever taught you how to manage money, how can you make informed financial choices?"
Helping hands
Astonishingly, our research shows that kids' main response to the cost of living crisis is to look for ways to help – and that includes children as young as eight-years-old:
25% of 9-year-olds would be happy to use their pocket money to contribute to the family food shop

Around 40% of 8-year-olds (and 33% of kids overall) say they would be happy to go without new toys or other treats for a month to help their family afford essentials like food and electricity.

The number of children spending in supermarkets has increased by 17% in 2022 vs the same period last year, suggesting kids are already helping out with the cost of household items.

Over half of 16 (54%), 17 (55%) and 18-year-olds (63%) surveyed either have a part-time job, or are looking for one, to help their family earn extra money.

The number of kids giving to charity has increased by 256% in 2022. As a result, the total amount donated has increased from £120,000 in the first half of 2021, to £435,000 in the first half of 2022.
Liam, 10, says, "When we are out shopping, I sometimes offer to pay for things, and I also use the giving option on GoHenry to donate to the NSPCC. It feels good to give money to charity as well as to my friends and family."
Katie says that Madison, 10, not only "helps out at her Grandad's motor garage from time to time, but we also do car boot sales. We recently sold Maddie's LOL dollhouse for £50 and used that to buy her new clothes. I also take Maddie with me when I do the food shop so she can see how careful I am with what I buy, and she helps me find cheaper items. Our family has also given up our regular Saturday night takeaway, which we have now traded for 'fakeaways' (making takeaway food at home) to save money as our bills have drastically increased."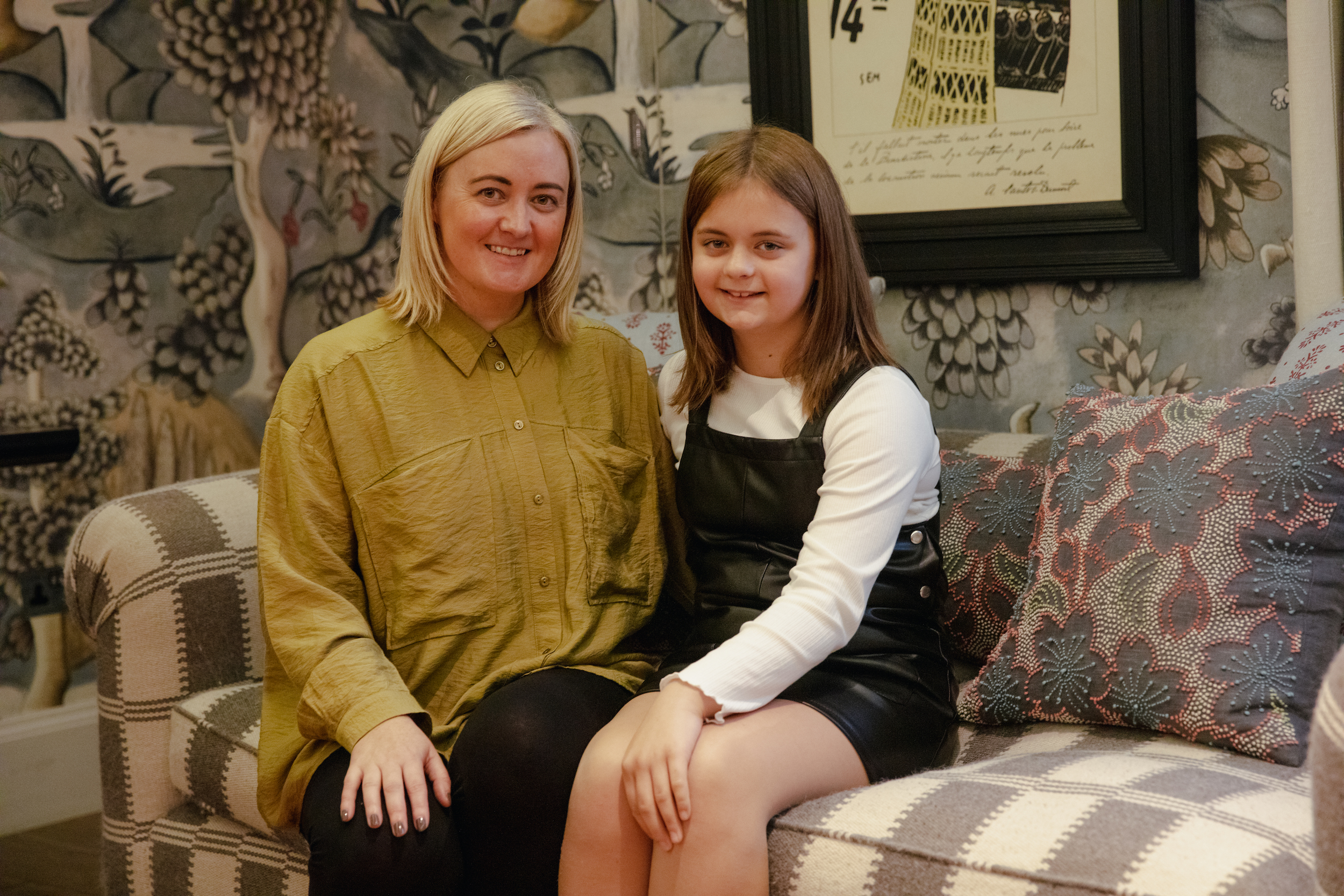 If you're looking for other money-saving ideas, Michelle suggests using the money-saving tips on TikTok and Instagram, and using online marketplaces to buy and sell.
She says: "We use Vinted. Both of our boys are sporty and grow out of football boots and equipment so fast – using Vinted Marketplace, we usually only pay around £5 for nearly new boots compared to £40 for similar items from a high street store. This is great for our budget as well as recycling perfectly good sportswear."
Finding ways to save
Despite the fact that families are cutting back, our data also shows that weekly pocket money has increased by over a third (38%) this year. Yet, this doesn't mean that kids are spending more. If anything, most are becoming savvy shoppers spending less on 'non-essential' categories like toys (-32%), gaming (-11%) and fashion (-14%) and doing more to earn more pocket money from paid tasks.
Monthly savings have also increased by 14% (from £14.67 in the first half of 2021, to £16.75 during the same period in 2022), and kids are shopping more sustainably, with the average spend on Depop having risen by 114%.
Lucy Roche, 16, from Dublin, is one such savvy shopper, "I've noticed how much prices are going up in the supermarket, so I started going to a cheaper supermarket and making little changes. I am much more conscious of bigger buys now. I don't make as many careless purchases as I used to."
Liam, 10, has started price checking via Google, saying, "I recently saved £10 by shopping around for the best price for a magnetic fidget pen I wanted." His brother Benjamin, 8, also says, "I bought rollerblades, but I had to save for a long time to get them!"
Their savviness is down to the fact that mum Michelle makes sure they understand the value of money. "We always talk about luxuries versus needs. Eating out, takeaways and trips to arcades are luxuries compared to normal day-to-day living expenses."
Katie does the same, "Maddie is a single child, but we still make her aware she can't have everything she wants. We are downshifting and looking for better deals on everything. We emphasise that she can help simply by being mindful. Turn lights off when you leave rooms, consider what you are buying and put a hoodie, jumper or socks on if you are cold. It's things like these that can really make a difference."
Building money skills
While household changes can be unsettling for kids, keeping the focus on building money skills can really help them to navigate the cost of living crisis – and set them up for a lifetime of good financial decisions.
Louise Hill says: "As already proven during times of crisis like the pandemic, Generation Alpha and Gen-Z are again finding ways to be resilient with their finances. Giving and saving have both increased during the first half of this year and kids are shopping more sustainably. These positive changes in financial behaviour will prove useful for the UK's young people as the cost of living continues to rise."
So make sure you give your kids plenty of opportunities to manage their pocket money, along with any money they earn. Help them make good financial decisions around budgeting, spending, and saving and ask for their input in helping make your household money-efficient. You may be surprised at what they suggest!
Data:
GoHenry internal data is based on 435,346 UK GoHenry members active between 1 Jan 2021 and 30 June 2022.

The research, commissioned by GoHenry, was conducted by Censuswide between 9th-14th September 2022.

A total of 2,034 UK children and teenagers aged 6-18 years old.

Censuswide abides by and employs members of the Market Research Society which is based on the ESOMAR principles.

Any reference to 'worried' is combining the two options 'slightly worried' and 'very worried'.