Since the start of the pandemic, gohenry kids have donated more money to charity than ever before, with many making weekly contributions. We're proud to share the news that children and teenagers aged 6-18 have now donated a grand total of £200,000 to the National Society for the Prevention of Cruelty to Children (NSPCC) via the giving feature in the gohenry app. This doubles the amount raised pre-pandemic, and shows how gohenry kids have been committed to helping others, even when dealing with the stress of COVID-19 restrictions, lockdowns and school closures.
Our Youth Economy data* shows that children and teenagers aged 6-18 have prioritised the gift of giving, despite the fact that (66%) admit to being more worried about money than they were at the start of the pandemic, perhaps as a result of their parents being furloughed.**
gohenry's young customers donated £66,800 to the NSPCC during 2020 alone – and what's even more incredible is that the average amount donated via the gohenry app is 13p, with a weekly average of 7p. This just goes to show how even a small amount can make a big difference.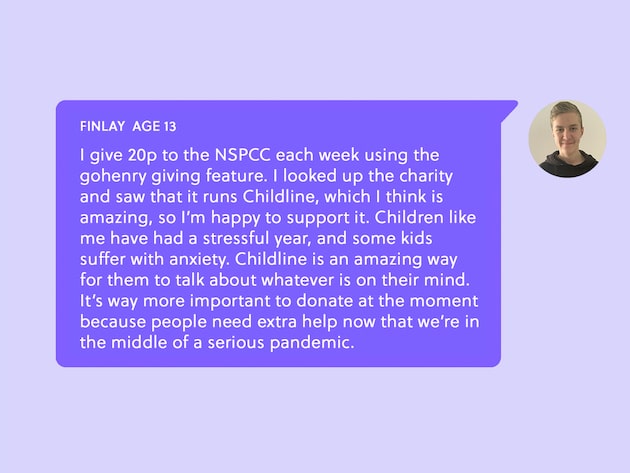 Mike McGrath, NSPCC Head of Partnerships, said: "I'd like to thank all of gohenry's young customers who have chosen to donate to the NSPCC and help other children and young people. At the NSPCC and Childline we know how challenging the past year has been for so many children due to a wide variety of reasons such as school closures, isolation from family and friends, and fears about the virus. In light of everything young people have had to deal with, it's inspiring to see that so many of gohenry's customers decided to do their bit to support other children who might be struggling."
Giving back
Along with the NSPCC, gohenry kids have also been donating to a range of other charities. In 2020 alone, they donated a further £82,200 – and their donations increased by 59% during the first lockdown, compared to the first three months of 2020.
Donations from British girls increased by 95% during the first lockdown to over £17,400, while boys' donations increased by 19% to £9,300. The biggest increase came from 16 year-old girls, whose donations increased by 375% during the first lockdown when charities were hardest hit.
Louise Hill, COO and co-founder of gohenry says: "This sharp increase in charitable giving also suggests an increasing awareness of all the ways it's possible to achieve gohenry's mission of being 'good with money'. After a challenging year, it's heartening to see that the lasting legacy of COVID-19 could be an increased focus on social responsibility and social good, with children and teenagers leading the way."
* gohenry insights are based on the behaviour of 398,140 UK child customers aged 6-18 who were 'active' across all of 2020 (child customers who activated their gohenry accounts before the start of 2020 and did not cancel at any point during the year).
** This survey was conducted by Censuswide, based on a sample of 2,009 children aged 6-18 in the UK (excluding Northern Ireland), with a minimum of: 33% aged 6-10, 33% aged 11-15 and 34% aged 16-18. The fieldwork took place between 08.10.20 – 16.10.20. Censuswide abide by and employ members of the Market Research Society which is based on the ESOMAR principles.