When the UK first went into lockdown on 23 March 2020, children and teenagers' lives were turned upside down. With schools closed, playgrounds locked and social contact with family and friends strictly limited, kids had to adapt – and fast.
One year on, our Youth Economy Report paints a clear picture of young people's changing habits as they navigated a year of lockdowns, remote learning, social distancing and quarantine, and reveals that children and teenagers are now redefining exactly what it means to be good with money.
Our Youth Economy Report gives us a unique insight into the financial habits of 400,000 British children aged 6-18. We've analysed gohenry data to find out how much they've earned and saved, where and when they're spending their money, and how much they've donated to charity. We've combined this with a survey conducted by Censuswide (1), based on a sample of over 2,000 British children, to give extra insight into children and teenagers' changing lifestyle and shifting priorities.
Remarkably, at a time when the UK economy experienced a significant shock, we've found that the youth economy remained buoyant throughout 2020, and the amount kids earned, saved and donated to charity actually increased.
Louise Hill, COO and co-founder of gohenry says: "Our data shows that, between January and December 2020, British children contributed a staggering £95.7 million to the economy. They also prioritised saving and giving, which suggests that the lasting legacy of COVID-19 could be a more considered attitude to money management, with Generation Alpha (born since 2010) and Generation Z (born between 1999 and 2009) leading the way."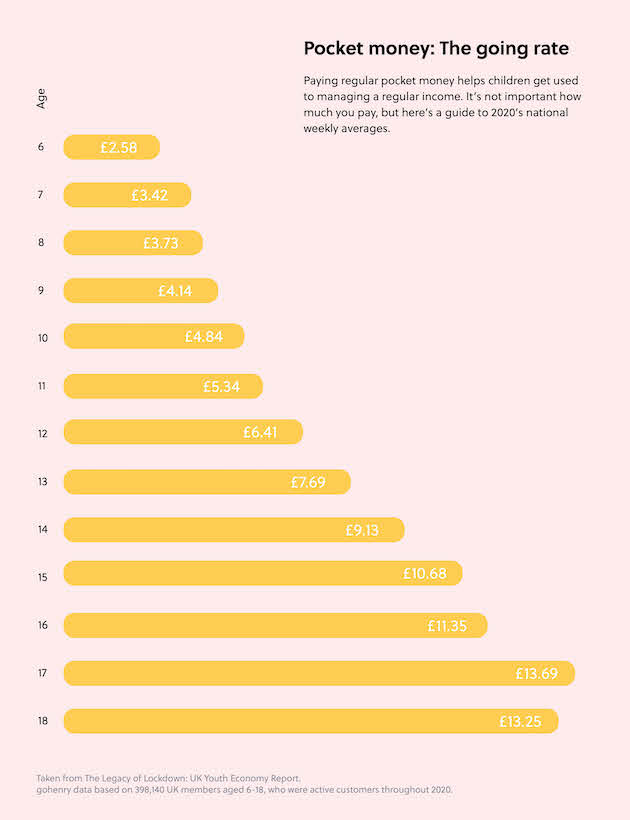 Making money
Over the course of 2020, gohenry children and teenagers in the UK collectively earned £108.4 million, which was made up of regular pocket money payments, paid tasks and gifts – some of which were sent directly to their gohenry account via Giftlinks.
Although the average weekly pocket money payment is £7.33, this varies according to age and location – and increased by an average of 20% over the year. Kids also collectively earned an additional £2.3 million from paid tasks. These earnings increased by 9% during the first lockdown, largely thanks to lucrative tasks like gardening (earnings for this increased by 239%), taking exercise (earnings increased by 172%), and washing the car (earnings increased by 77%).
Socially-distant gifting also gave kids' earnings a boost. With many extended families unable to meet face-to-face, some gohenry kids celebrated birthdays, Easter, Halloween and Christmas with a little help from Giftlinks. During the first lockdown, the number of Giftlinks received increased by 60% (2), with an average gift of £30.
"My birthday is in March, and the first lockdown started a couple of days before my party so we had to cancel it. I was sad about it at first, but it ended up being the best birthday ever – I got eight Giftlinks!" Mal'achai, age 10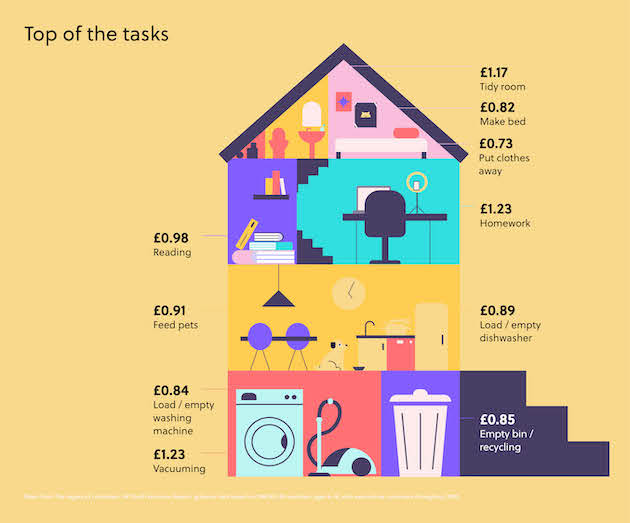 Money worries
Unfortunately, the pandemic has made children acutely aware of money, with 66% of those we surveyed saying that they worry more about money since the start of the pandemic, and admit it has affected their mental wellbeing (3).
This could explain why gohenry kids saved 12% of their total income in 2020 – rising to 77% of their earnings during lockdown one. This is over two-and-a-half times the UK's Household Savings rate for the same period (4). Although it's alarming to discover that changes to their family finances have left so many young people feeling anxious about money, it's encouraging to see that they have already taken steps to improve their money management skills, which bodes well for their financial future.
Changing habits
Predictably, COVID-19 restrictions further encouraged young people's shift to online spending: over the year, 52% of their spending took place online, rising to 74% during the first lockdown. And when they do shop in store, over half (51%) of the children and teenagers we surveyed told us that they've been more concerned about using cash since the start of the pandemic (5).
"It makes me feel a lot safer to use my card and pay with contactless as it reduces the need for social contact. I prefer to use my card rather than cash, mainly because I feel worried for other people rather than myself – there's a risk of spreading COVID-19." Noah, age 13
With schools, shops and entertainment venues closed for weeks or months at a time, most kids turned to screens for entertainment. So it's no surprise that the bulk of their spending was directed at gaming and technology, particularly for boys. Over the course of the year, boys spent over £14.3 million on gaming. Girls spend more on fashion – and lockdown restrictions didn't put a stop to this: they spent £6.9 million in 2020, with Primark and online retailer Shein their clear favourites.
Once the first lockdown ended, kids were keen to get out and enjoy a taste of freedom. They took full advantage of the Eat Out to Help Out scheme: the amount spent in cafes and restaurants increased by 432% in the third quarter of the year.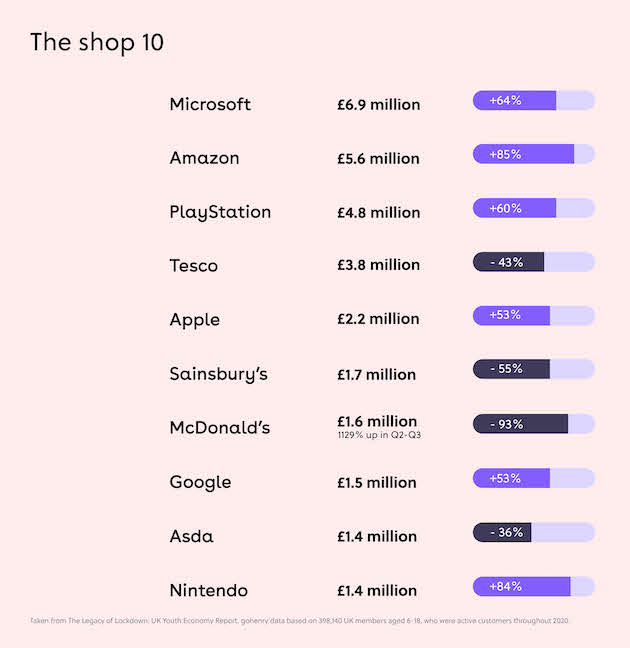 Giving back
After a year full of uncertainty, it's heartening to learn that gohenry kids donated an impressive £66,800 to our charity partner, the NSPCC, during 2020. What's even more incredible is that they donated much more widely than this: between January and December 2020 they gave an additional £82,200 to various charities using their gohenry cards, with a 59% uplift in donations during the first lockdown.
"I give 20p to the NSPCC each week using the gohenry giving feature. I looked up the charity and saw that it runs Childline, which I think is amazing, so I'm happy to support it." Finlay, age 13
The legacy of lockdown
The pandemic has had a huge impact on children and teenagers, and our data reveals the different ways that restrictions shaped their behaviour in 2020.
From their increased motivation to complete paid tasks, to their focus on savings and their commitment to put money away for the big ticket items that will help them navigate lockdown life – like a laptop or PC, a phone, AirPods, a bike or a car – we can see that they are already planning for a brighter future.
But the most encouraging change is the huge increase in charitable giving. We've long known that Generation Alpha and Generation Z are committed to driving social change, but this impressive increase in donations indicates that they're ready to rewrite the concept of what it means to be good with money – especially when it comes to helping others.
gohenry insights are based on the behaviour of 398,140 UK child users aged 6-18 who were 'active' across all of 2020 (child users who activated their gohenry accounts before the start of 2020 and did not cancel at any point during the year).

We analysed behaviour during 2020 as a whole, and also looked at Q1 (pre-Covid), Q2 (lockdown 1), Q3 (easing of restrictions) and Q4 (regional restrictions and tiers).
Censuswide
The research was conducted by Censuswide, based on a sample of 2,009 children aged 6-18 in the UK (excluding Northern Ireland) and a minimum of: 33% aged 6-10, 33% aged 11-15 and 34% aged 16-18.
The fieldwork took place between 08.10.20 – 16.10.20. Censuswide abide by and employ members of the Market Research Society which is based on the ESOMAR principles.
The research was conducted by Censuswide, based on a sample of 2,009 children aged 6-18 in the UK
Compared to Q1
This research was conducted by Censuswide, based on a sample of 2,009 children aged 6-18 in the UK
This research was conducted by Censuswide, based on a sample of 2,009 children aged 6-18 in the UK
How can GoHenry help?
GoHenry's mission is to make every kid smart with money. The debit card and app are packed with great features that help teens and kids safely and securely learn about money, from saving to smart spending.
In-app Money Missions make learning about money fun and engaging with videos and quizzes covering everything from saving to budgeting.
Parents can set flexible parental controls in the GoHenry app, and receive real-time spending alerts whenever their kids or teens use their GoHenry kids' debit card or teen debit card. You can also create savings goals and recurring pocket money payments.