Autism Acceptance Week, which runs from 28 March to 3 April, 2022, is an opportunity to shine a light on the 700,000 people in the UK who are living with autism – and improve understanding, inclusion, acceptance and support.
Autism is a hidden disability that can affect people in many different ways. Being autistic isn't an illness or a disease – so there isn't a 'cure' – it simply means that a person's brain works in a different way. As autism is a spectrum, some people are affected more than others, and may need extra support from a parent or carer. In addition, some people with autism have other conditions, including attention deficit hyperactivity disorder (ADHD), dyslexia, anxiety, depression, and epilepsy. Although some autistic people have average or above average intelligence, others may have a learning disability.
Understanding autism
Autistic people are often misunderstood because autism can affect their behaviour and the way they react to others. For example, they may have difficulties understanding how other people think or feel, find it hard to communicate and interact, struggle with unfamiliar situations, and find bright lights, loud noises and busy places overwhelming.
According to the autism charity Anna Kennedy Online, 2.8 million people in the UK have a relative on the autism spectrum, so many of us know someone who has received an autism diagnosis – and are aware of the challenges they may face.
We're often told that GoHenry has helped many children and young people with autism become more confident about money management, giving them some financial independence as well as the confidence to make payments in shops.
Dr Anna Kennedy OBE, founder of Anna Kennedy Online, says: "We have always strived to help autistic children and their families lead productive and rewarding lives, and we know how important the right tools can be to help achieve this. While all autistic individuals share certain difficulties, their autism spectrum condition can affect them in different ways and all aspects of their day-to-day life can be impacted, including money management. We've collaborated with GoHenry in the past since we believe it is a great solution for young people diagnosed on the autism spectrum to gain confidence and independence with managing their money under the guidance of their parents."
We asked some GoHenry members to tell us more about the challenges that they've faced due to autism, and explain how the GoHenry prepaid debit card and financial education app has helped their children.
"GoHenry gives Matthew a sense of independence"
Paul Greany, Chairman, Fighting for Autism, has a 17-year-old son Matthew, who was diagnosed with autism before he started school. He also has dyspraxia, anxiety disorder and learning difficulties.
"Matthew has had his GoHenry card for around two years, and it has been beneficial to him in so many ways. He is now at college, which means he regularly uses his GoHenry card throughout the week, particularly in the college cafeteria. This has given him more independence and his confidence has grown, which has been amazing to see. He's able to navigate around the GoHenry app and make us aware if he requires more funds, and he's also enjoying the Money Missions. As parents, we have the peace of mind of being able to monitor Matthew's spending – something we may not have been able to do so easily with a traditional bank account.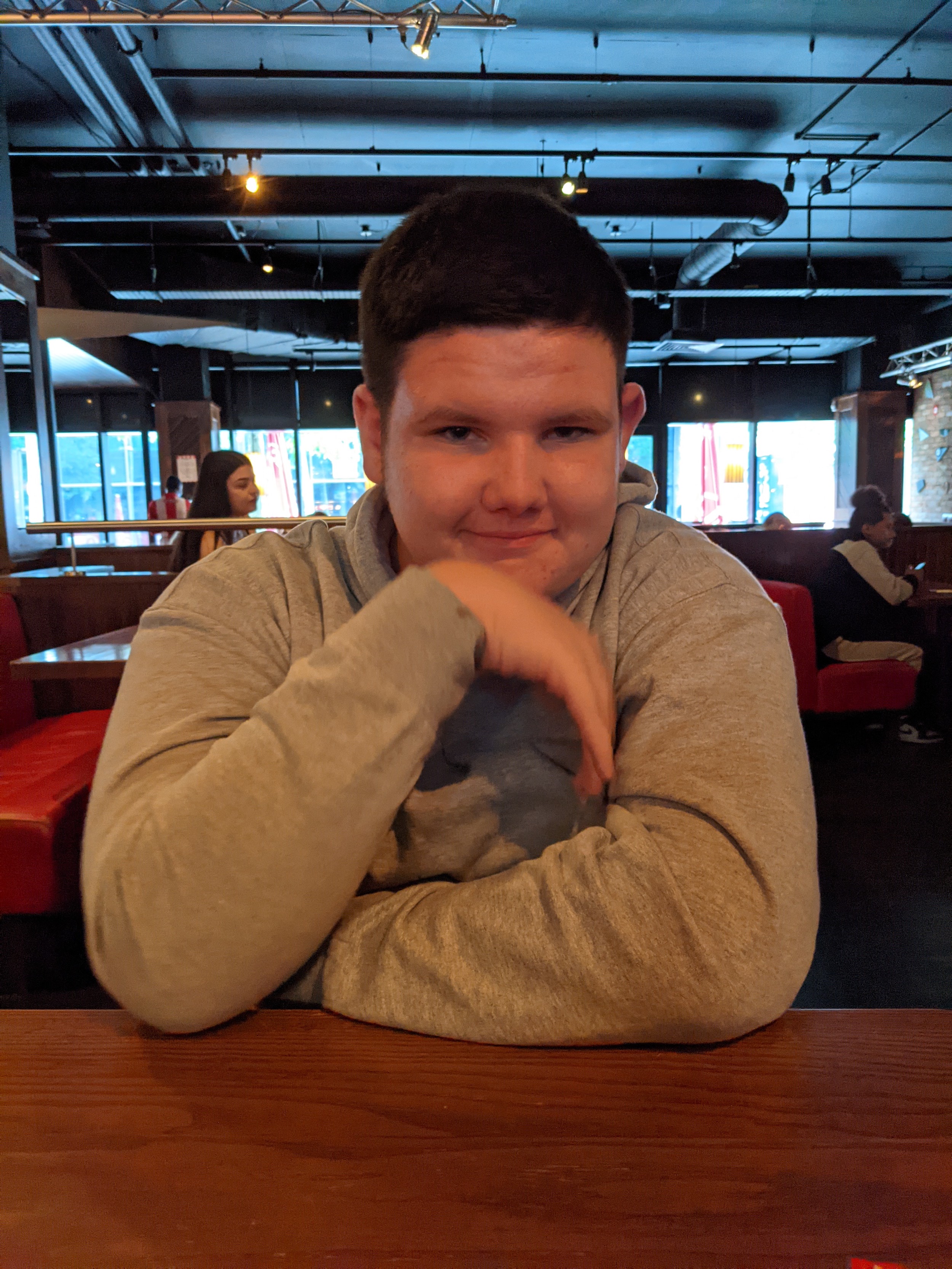 "Before GoHenry, giving Matthew pocket money to spend at the local shop often resulted in him having heightened anxiety due to physically handling money. This made the experience upsetting for Matthew but, with his GoHenry card, the potential trigger points are reduced. This has opened up opportunities for him, as he can now make a purchase in a coffee shop or comic store without the anxiety.
"A few weeks ago, Matthew actually took me for a coffee, and he felt incredibly grown up paying for his dad's coffee and his own hot chocolate with his own card – with no prompt from me, he actually offered to pay for it and asked for a receipt. It may seem like a small thing to some, but it's a memory I'll keep for a lifetime."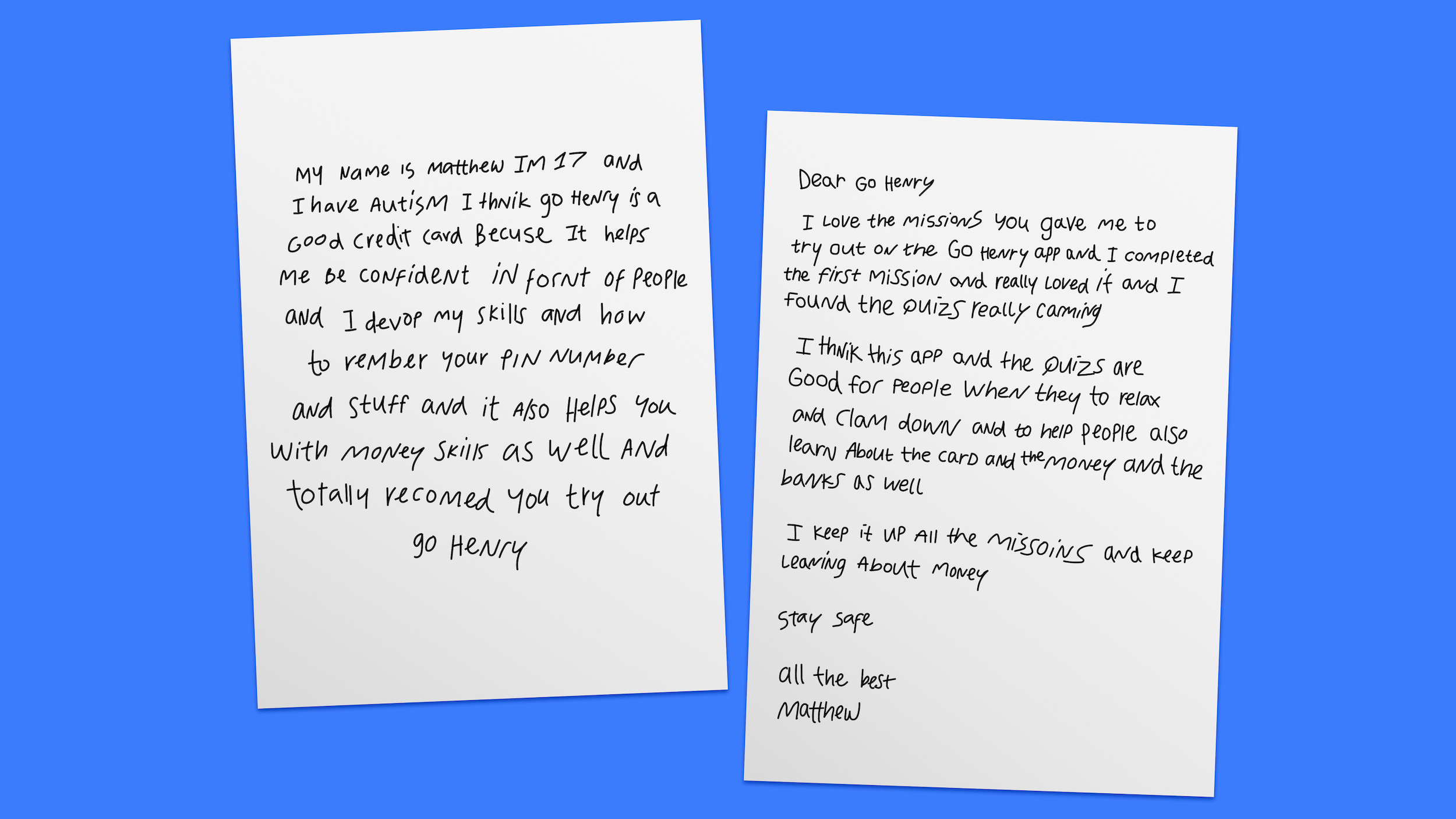 Matthew says: "I think GoHenry is a good credit card because it helps me be confident in front of people and develop my skills and how to remember your PIN number and stuff. It also helps you with money skills. I love the Money Missions on the GoHenry app, and I find the quizzes really calming. I think the app and the quizzes are good for people when they need to relax and calm down, and to help people learn about the card and money and banks as well. I'll keep up with all the Money Missions and keep learning about money. I totally recommend you try out GoHenry."
"GoHenry gives autistic children a head start"
Victoria Larley is mum to Martha, 11, who was diagnosed with autism at the age of six.
"Martha has had a GoHenry card for about five years. As an autistic child she can often struggle with independence, but this is one thing she has control of. She doesn't always understand that money is a limited resource, but she's very app savvy so can look at her balance and see money going in and out. She particularly enjoys seeing the different spending categories and percentages.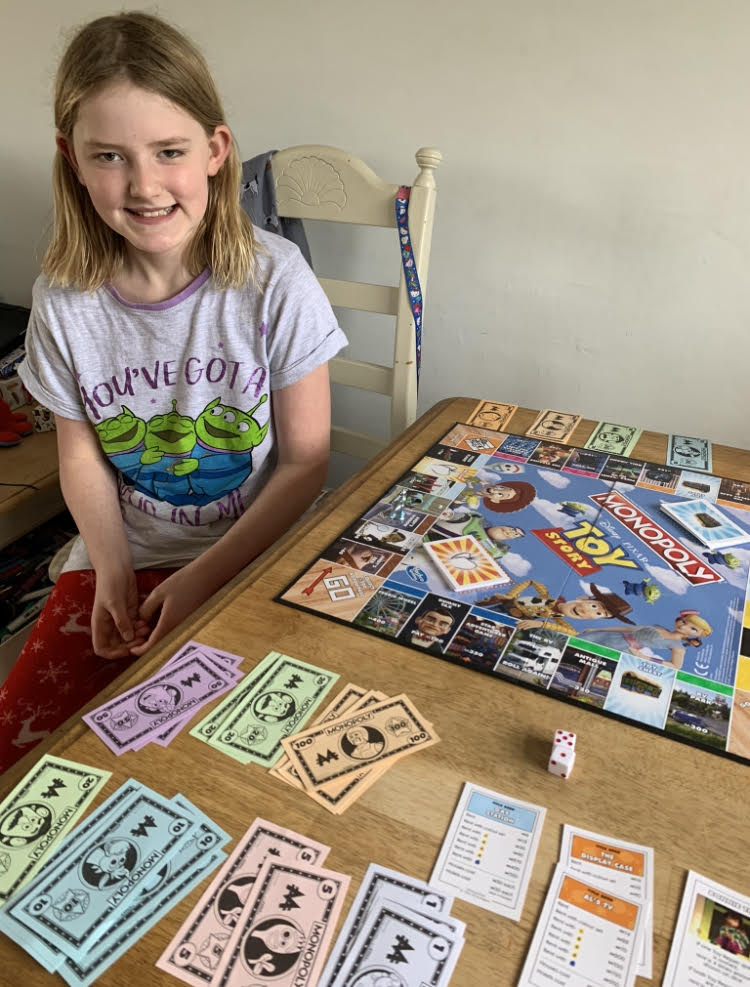 "Martha likes paying for things contactlessly as she doesn't have to remember her PIN, and she enjoys bashing her card on the reader, so it's a rewarding experience for her. She's a keen saver but also enjoys being able to go to a bookshop (her favourite place!), choose her own book and pay with her own money.
"I think managing money is a challenge for autistic children. The whole concept of paying for something you want can be difficult to grasp, and the GoHenry card makes them aware of the need to have the available funds in order to make a purchase. It gives teenage children a head start in the word of finance as it allows them to take control – something that can often be taken away from them by autism."
Martha says: "I like being able to buy things that I want and I know I can afford to pay for them because of the app. It makes me feel like a grown-up."
"GoHenry helps Jaxon to practise different life skills"
Holly Ring is Mum to Jaxon, 8, who was diagnosed with autism just before his 5th birthday. One year later he was also diagnosed with ADHD.
"Jaxon got his GoHenry card for his 7th birthday. He'd been asking for money so he could choose new toys, but he loses things quickly and easily, so giving him cash wasn't an option. We asked him to help pick the design for the front of his card without telling him what it was for, and he was so excited when he saw the card with his design and name on it.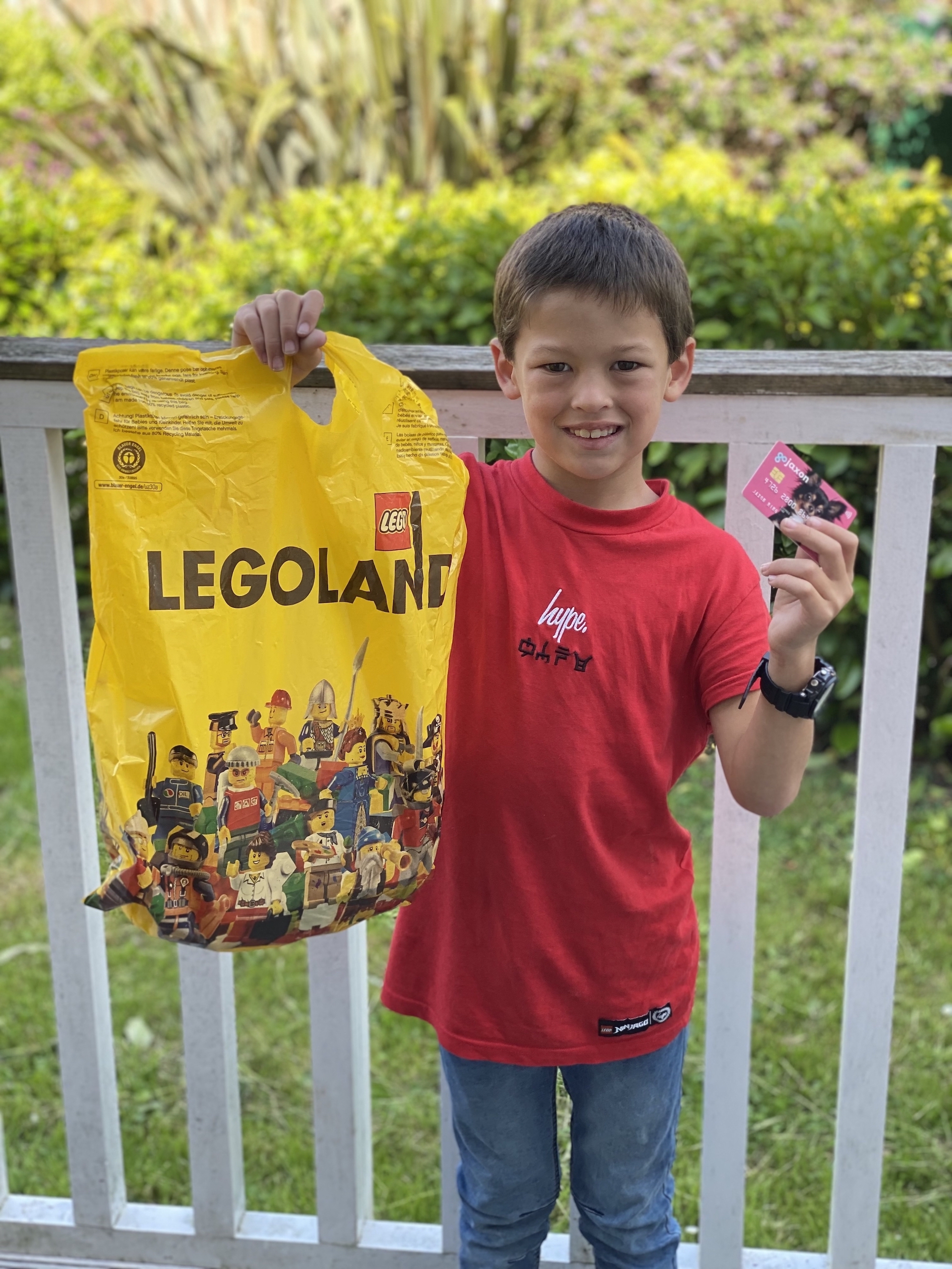 "Jaxon feels independent with his GoHenry card, but we have the safety of being able to block his card in the app if it gets lost. He's been able to practise using his card in real-life situations, such as using chip and pin machines, so that he'll know what to do when he's older and alone. We've even been able to send him to the counter in a cafe to get another drink, while we watch from the table. This was a huge step for Jaxon as it allowed him to incorporate other skills he's been working on, and it gave him a real confidence boost.
"People with autism can have problems managing money, especially when it comes to buying things that they collect. For teenagers wanting more freedom and less parent involvement, the GoHenry card allows parents to monitor its use from a distance. One of our biggest concerns as Jaxon grows up is that people could take advantage of him. So the fact that GoHenry sends us notifications when he uses it – and we can set limits – makes us feel much better."
Jaxon says: "I like that Mummy can easily add money to my card from her phone so that I can buy toys."
"GoHenry builds Jack's confidence to make his own decisions"
Georgina Harrison is Mum to Jack, 9, who was diagnosed with autism at the age of three. He also has a speech disorder, dyslexia and learning delays.
"Jack's autism means he needs visual cues to help him learn, and GoHenry offers this. He can look at the app and see which tasks he needs to complete in order to earn his pocket money, and he can also keep track of how much money he already has in his account.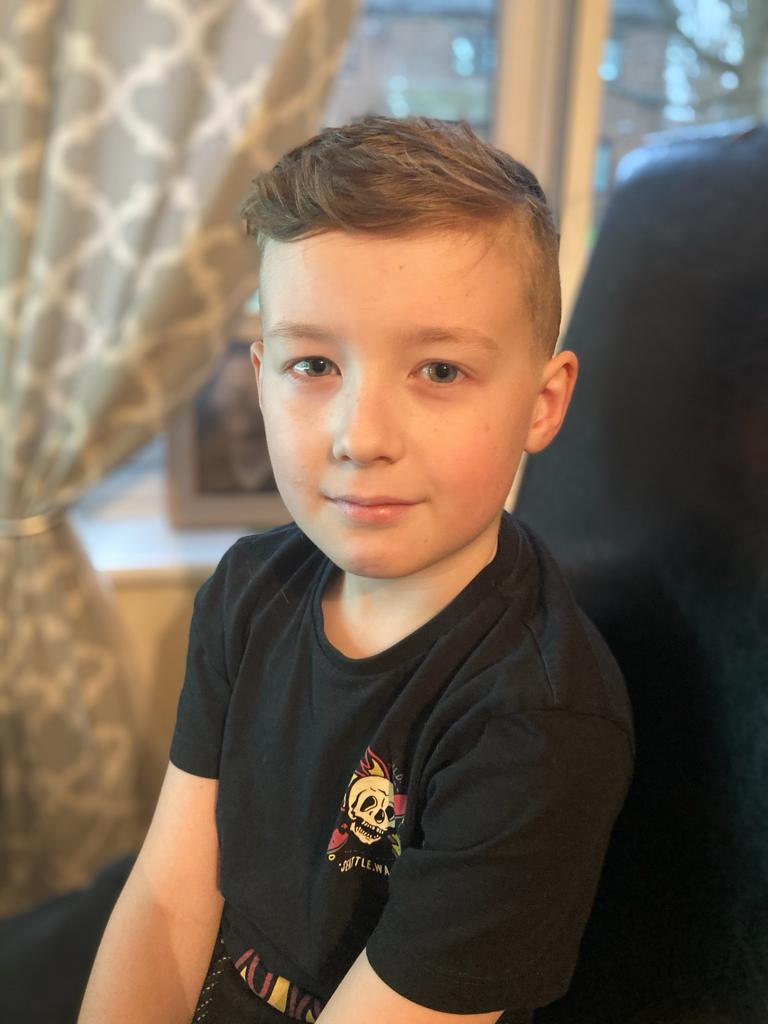 "Before Jack started using GoHenry, he would generally expect to buy something every time his family would go to the shops. Now he understands the value of money more: how expensive things are, and how he has to budget and save if he really wants something. He also understands about transferring money and how on his birthday he can ask family for money through GoHenry's Giftlinks feature. Being able to put saving, spending, earning and giving into practice has made life easier for us as it has helped Jack grow, learn and become more independent.
"I've never seen a product cater so well to children with autism. It's so easy for Jack to navigate and the visual aspect for him is huge, as it's the easiest way for him to really understand how things work. It fills us with great confidence for his future, and reassures us that we can also keep track of what Jack's spending and how he is using his card. It also builds Jack's confidence to do things for himself and make his own decisions, equipping him with essential skills for life."
Jack says: "I love being able to earn and save money with my GoHenry card. Then I can save for something I really want by helping my mum and ticking off my chores on the app. It's fun to use my GoHenry card to buy something I want when I go out with my mum and dad. It makes me feel grown-up. I love choosing the design on my card too, it's so cool!"
For more advice and support, we recommend the following resources: