To celebrate summer's biggest football tournament, GoHenry has teamed up with footballers Alex Greenwood and Lauren James. We've released four limited-edition football cards to help kids kick off their money skills – and we're also giving away match tickets, signed shirts, and an exciting post-match meet and greet with both players. Despite their hectic training schedule, we managed to catch up with Alex and Lauren and find out why they support our mission to make every kid smart with money.
Mastering money skills 💳
Football stars Alex Greenwood and Lauren James are living proof that building your skills from an early age is the key to making your dreams come true. Alex admits, "When we won the Euros, every one of our lives changed at that moment. The biggest thing I say to young kids is that it's hard work, it's not just given to you. You've got to be 100% dedicated in everything that you do. "
No matter what your child dreams of doing when they grow up, practice makes perfect. The same goes for learning how to manage money. As well as teaching kids the money skills they need to succeed, our research shows that financial education from an early age holds the key to a bright future – and could boost their chances of landing a well-paid job.
Both Alex and Lauren support our mission to make every kid smart with money. Alex says, "I think it's crucial to learn about money. If I could go back to when I was young and have this information, I would give anything for it. If I could go back to school and be taught something about money it would be, first of all, about savings."
Lauren adds: "I just want to help those who are younger to follow their dreams. It's important to know that if they have a dream, they need to put money aside to help them get there. When you're young you want all these nice clothes and shoes and sometimes you can look at them and really want them, but it only makes you happy for a week, whereas if you save the money you could be happier for longer."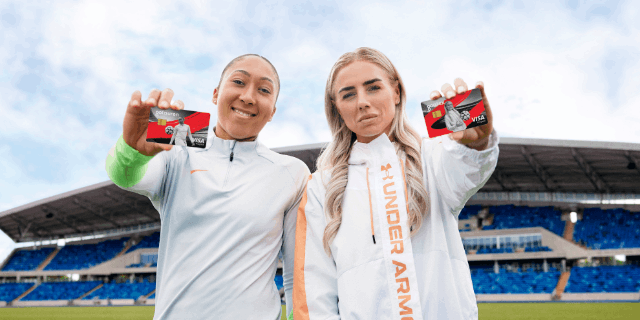 Win a fantastic football experience ⚽️
To make the launch of our new cards even more special, we're giving GoHenry football fans the opportunity to win tickets to a match – as well as a 30-minute meet-and-greet with Alex and Lauren. There are two pairs of tickets up for grabs: one lucky winner will get to meet Alex, and the other will get to meet Lauren. Two runners up will also win tickets to a match and a signed shirt from Alex or Lauren.
To enter, check out our Instagram posts featuring Alex and Lauren, and make sure you follow and tag a friend in the comments. Competition opens at 9am on 20 August, 2023, and closes at 11.59pm on 3 August.
This competition is only open to residents in mainland UK.
T&Cs apply:
It's the perfect way to kick off a sensational summer. ⚽️
Alex and Lauren answer your questions
We asked GoHenry kids to send over some questions for Alex and Lauren. Here are their responses:
Did you have a part-time job when you were a teenager?
Alex: My first job was delivering the Liverpool Echo newspaper to everyone – I got a little bit of money for it.
Lauren: No, my first job was playing football professionally.
Did you save money when you were younger?
Alex: Yes, when I was growing up my big goal was to buy myself a nice house – but the best one was to pay for myself to go on holiday.

Lauren: I wanted to buy a house and a car.
How does it feel when you walk into the England dressing room and see an England shirt with your name on the back?
Alex: Every time I walk into the dressing room and see my England shirt with the name on the back is such a rewarding feeling. It's a really proud moment to know that I've represented my country, and it's something my family are really proud of as well.
Lauren: When I walk into the dressing room and see my name on the back of the England shirt it's a proud moment for me. It doesn't sink in straight away because it's such a big moment and I'm just proud.
Do you have any advice for the younger generation of female footballers?
Alex: My advice to the younger generation of female footballers is to enjoy it for sure. Know there's a lot of hard work along the way, but most of all have fun while you're doing it and play with a smile.
Lauren: My advice for young female footballers would be to enjoy the journey and work hard.