The internet is an essential learning tool for kids. Despite the benefits, it is possible for your child to access inappropriate content unsuitable for their age. As such, setting up parental controls on your child's iPhone or iPad is a good idea and it gives you peace of mind.
There are a lot of different ways to prevent your kids from seeing or doing something they shouldn't online. Parental controls are one of the easiest and best ways to keep your kids protected while they use their devices.
So, how do you set up iPhone or iPad parental controls and what exactly can you stop them from doing? Find out everything you need to know in our useful guide below.
What can be restricted on your devices?
Parental controls can help you to restrict a wide range of content and activities on yours and your child's device. There are apps and tools to help you restrict and control the following:
Prevent access to certain websites
Set privacy and content restrictions
Restrict access to Apple's Game Center
Block use to specific apps
Prevent app store and iTunes purchases
Some parental controls allow you to restrict all the above, while others focus on one function.
How to set up parental controls on your iPhone and iPad
Now that you know what you can restrict and why it is beneficial to do so, let's look at how to actually set up parental controls on your devices.
How to put parental controls on iPhone
iPhone parental controls are simple to install. The built-in tool allows you to limit screentime and restrict things like specific apps on the device. To put parental controls on your iPhone, simply follow these steps:
Step 1: Go into your phone's settings and click on Screen Time.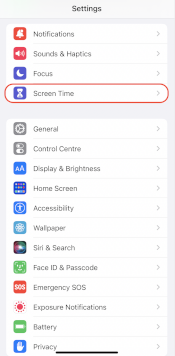 Step 2: Select "This is my device" or "This my child's device".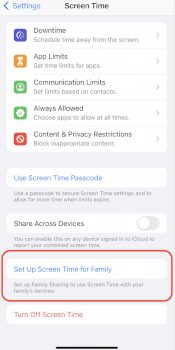 Step 3: Follow the instructions to set up a passcode. This should be a different passcode from the one used to unlock your phone.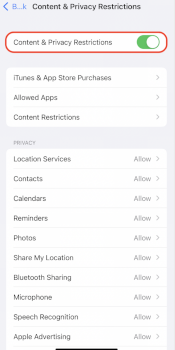 Step 4: Click on content & privacy restrictions and enable the content & privacy setting.
If you want to prevent your kids from buying anything on the app store or through iTunes, continue with the following steps:
Step 5: In the screen time setting, tap on content & privacy restrictions.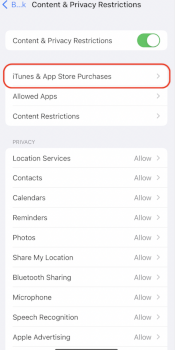 Step 6: Click on iTunes & App Store Purchases. Select the appropriate setting before clicking on "Don't Allow".
How to put parental controls on iPad
To set up parental controls on an iPad, follow these simple steps:
Step 1: Set up Family Sharing by heading to settings. Click on your name, then on Family Sharing. Follow the instructions to set up the account.
Step 2: Once you have your Family Sharing group set up, click on Screen Time.
Step 3: Follow the instructions to set up screen time restrictions on the device.
Step 4: Back in the main Family Sharing menu, click "Ask to Buy".
Step 5: Add your child to the Ask to Buy account. Doing so will ensure they cannot make any purchases without asking you first.
Can I set up parental controls on the GoHenry app?
Yes, the GoHenry app allows you to set up various parental controls. We designed the app to teach kids financial independence while giving parents and guardians complete peace of mind.
Through the app you can:
Select where the card can be used
Set how much money can be spent in one transaction
Set an ATM limit
Limit how much they can spend each week
With our prepaid debit card for kids and accompanying app, you can rest assured your children will never be able to spend more than they should.
GoHenry is available for 30 days free of charge. There are no upfront costs to pay, and we allow you to cancel at any time.
Should I use additional parental control apps?
While iPhone parental controls can limit your kids screen time and prevent them from making purchases, they won't fully monitor their use. If you want to make sure your kids are truly protected online, it is worth looking into additional parental control apps.
What can additional parental control apps do?
Independent parental control apps offer a lot of extra features you don't get on your iPhone or iPad as standard. These include:
Provide accurate location tracking
Provide activity reports
Prevent your child from accessing certain apps or websites
The ability to monitor the activity on your child's device helps you to prevent things like cyberbullying and grooming. You will get to see how they are using the device and the people they are chatting with.
Some apps give you the ability to monitor texts and social media. While this can feel like an invasion of privacy, you can always choose to monitor them when you have a particular concern, rather than on a daily basis.
These are just some of the features independent apps can deliver. Take your time to compare the different features available before choosing the right app for you.
Choosing the best parental control app
There are a lot of different iPhone and iPad parental controls you can download. When looking for the best app to use, consider the following:
Security and privacy – When choosing between the numerous parental control apps out there, security and privacy should be a top priority. Always read the small print before you download an app. What will it have access to and how will it use your data? Will it provide good security, or will your child be able to override the app?
Carefully compare the different parental control apps to see which ones offer the best level of privacy for you and your child.
Ease of use – Parental controls shouldn't be overly complicated. Obviously, you want them to be able to restrict your kid's usage of their device, but it shouldn't restrict you too. How easy is the app to use and is it simple to understand?
Some parental control apps come with a demo so you can see how they work before you sign up for them. Try out as many demos as you can to see which app works best for you.
How flexible is the app? – Another factor to look at when choosing the right app, is how flexible it is to use. Does it offer flexible controls or are you limited in what you can do? Think about whether it fits your family's needs and look at all the features included.
These are some of the main things to consider when choosing the best parental controls to match your needs. Don't forget to look at review sites too. These will give you an idea of how easy they are to use and how accurate they are. See what other parents have to say about the app to decide whether it is the right option for you. Consumer review sites allow you to compare multiple apps in minutes.
If you are looking to make your kid's devices more secure, setting up parental controls can help. They are free to use and could save you a lot of stress and potentially money. If you haven't set up any parental controls yet, follow the methods above to do it today. Don't forget to set up parental controls on your GoHenry app, too.