Buy Now Pay Later has become an increasingly popular option when shopping online, thanks to platforms like Klarna, Clearpay and Laybuy.
These give shoppers the option to 'try before they buy', and pay 30 days later – or split the cost into three equal payments, often with the promise of no added fees, interest or late charges. You'll spot these platforms at the checkout of dozens of big name retailers, but critics say that they tempt young people to spend more than they can afford.
Since these platforms enable customers to make use of a credit facility, and are intended to be used only by those aged 18+, it's important to note that we're unable to allow the gohenry card to be used with Klarna or Clearpay. If a transaction is attempted, it will be automatically declined – so please make your child aware of what it means to Buy Now Pay Later (BNPL), and why they need to select the 'card payment' option at checkout, before using their gohenry card online.
A small number of retailers now have their entire checkout process – including immediate card payments – managed by Klarna. Unfortunately, this means that even immediate card payments will be automatically declined when using a gohenry card, simply because they are processed via the Klarna platform.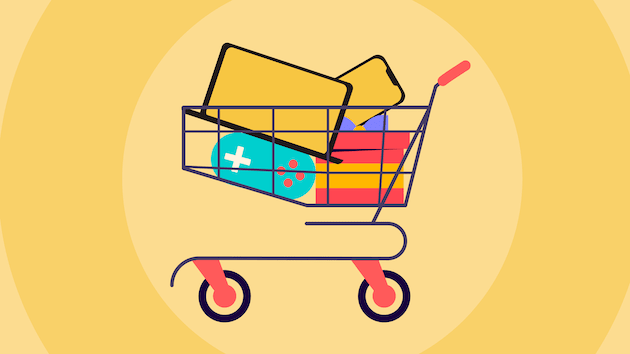 Which retailers offer Buy Now Pay Later?
There are three main Buy Now Pay Later platforms available in the UK: Klarna, Clearpay and Laybuy. Of these, Klarna is the biggest and the best known, with over 90 million active consumers, across more than 250,000 retailers in 17 countries. In the UK alone, Klarna has over seven million customers.
Buy Now Pay Later is offered as a payment option at checkout by a large number of retailers – including many of the stores which we know are most popular with gohenry customers, such as ASOS, H&M, New Look and JD Sports.
Some stores give customers a choice of payment options: card payments, Klarna's Pay in 30 days / Pay in 3 instalments, or pay with external platforms such as Paypal or Apple Pay. Klarna also offers financing, which is available for bigger purchases over a longer time frame of up to 36 months.
Clearpay gives customers the ability to pay in instalments, without paying any interest. Clearpay then automatically processes card payments on the scheduled dates.
How does Buy Now Pay Later work?
In most cases, when you checkout and choose the card payment option, your payment will be taken in the usual way. But if you choose to pay later, Klarna payments won't be due until 30 days after you placed your order. If you opt for 'Pay in 3 instalments' or financing, your first instalment will be taken immediately, and subsequent payments will be automatically taken from your card on a set date.
When you use Clearpay, the first payment will be taken immediately, with three more payments scheduled over the following six weeks.
Given the range of payment options offered at checkout, some younger customers might not understand the difference between them – and risk having their payment declined as a result. This is why it's so important to ensure that they've selected the card payment option, rather than Pay in 30 days or Pay Later / Afterpay.
It's important to note that customers have to be at least 18 to use the pay later options, and Klarna carries out a 'soft' credit check and affordability assessment before these can be approved.
Clearpay requires customers to verify their age and identity with a passport, driving license, utility bill or bank statement.
As an added layer of protection for our young customers, we've blocked the ability for gohenry cardholders to pay using Klarna or Clearpay.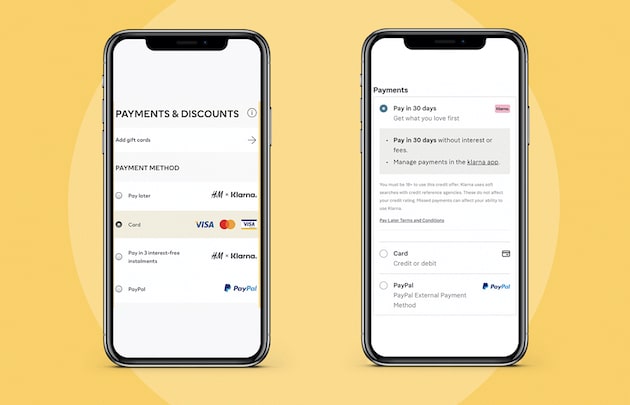 Does it cost anything to use Klarna or Clearpay?
In the UK, there are no interest or late payment fees associated with Klarna's Pay in 30 days or Pay in 3 instalments, so it won't cost any more than if you paid for the item upfront. If payments are late this won't affect your credit score, but if a payment is several months overdue it may be passed to a debt collection agency. Interest is only payable if you use Klarna financing.
If you use Clearpay, there are no charges unless you make a late payment, in which case you'll be charged £6. Late fees are capped at £36 for orders above £24, or £6 for orders under £24.
The pros and cons of Buy Now Pay Later
For some, the option to Buy Now Pay Later was a godsend when shops (or fitting rooms) were closed due to COVID-19 restrictions. After all, it's a convenient way to purchase several items, choose which ones to keep, and send the rest back without having to pay upfront and wait for a refund.
However, Buy Now Pay Later platforms like Klarna and Clearpay have also attracted criticism from those who believe that they are particularly appealing to young adults who don't fully understand how credit works, and fail to realise that their debt can build up very quickly.
This is a particular risk for students and young adults with unstable sources of income, who are tempted to spend more than they can afford.
For this reason, we recommend talking to younger children about the difference between need and want, and starting a conversation with teenagers about credit and debt, so that they're fully informed about handling credit responsibly.
This is a great way to open the conversation about borrowing money, which is a crucial part of every child's financial education.
For more information about Buy Now Pay Later, please take a look at our FAQs.