The part-time job has always been an important rite of passage that sets us on the path to adulthood. It doesn't matter whether you had a paper round, waited tables or worked in retail, there's every chance you still remember how good it felt to earn your own money for the very first time – and the life lessons you learned in the process.
In our first Youth Economy Report of 2022, we take a closer look at the ways in which kids are making money today, and consider what this means for the future of work. Our report findings indicate that young people are already taking an entrepreneurial approach to earning – and they've set themselves such ambitious career and salary goals for the future that we've dubbed them 'Generation Aspiration.'
Our latest Youth Economy Report gives us a unique insight into the earning habits of over 450,000 GoHenry kids in the UK. (1) We've analysed GoHenry data to find out how much they've earned from pocket money, paid tasks and Giftlinks, and combined this with a survey conducted by Censuswide (2) to enhance our understanding of young people's part-time jobs, career goals and salary expectations.
The going rate for pocket money
In the UK, pocket money is usually paid on a Friday (37%) or Saturday (29%), and the average weekly amount received now stands at £7.62, which is a 6% increase on 2020.
Despite this, slightly more than four in ten kids (41%) say they aren't earning enough – but they're not simply expecting their parents to hand over extra cash. More than seven out of ten kids (71%) now say that it's important to earn their own money – and even children who are too young to get a job are giving their pocket money a boost by helping out around the house. In 2021, GoHenry kids earned a total of £2.9million from completing tasks that had been set in their GoHenry app.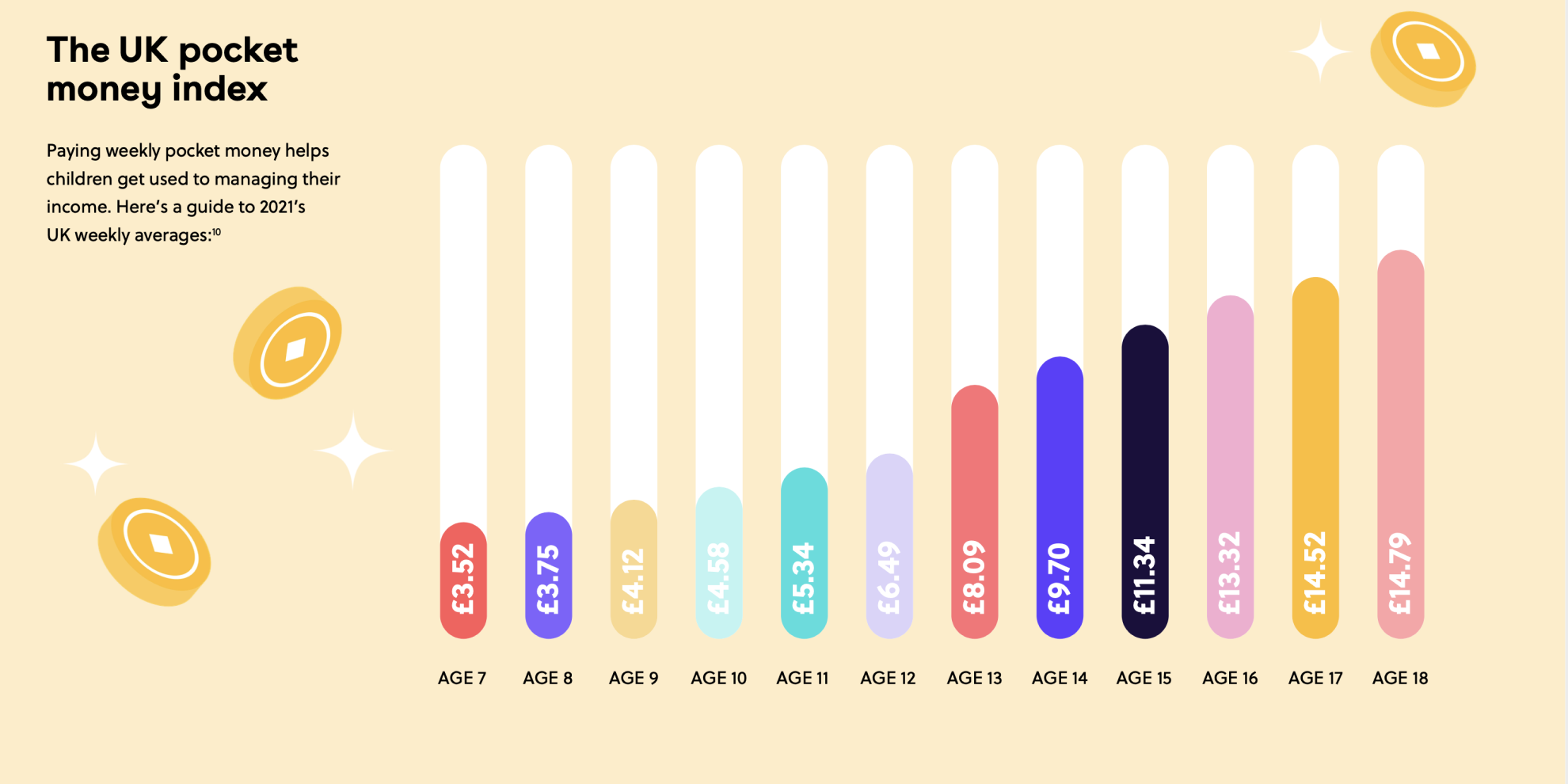 Significantly, girls are now earning 4% more than boys (£8.37 per week, compared to £8.03 for boys), which represents an overall increase of 9% in girls' earnings year-on-year. This reversal of the pocket money pay gap, which stood at 5% in 2018, suggests that the century-old gender pay gap
(which rose to 7.9% for UK adults in April 2021) could finally begin to shrink when Generation Aspiration enter the workplace.
Kids Making Money
Our data shows that GoHenry kids in the UK earned a total of £148 million in 2021. This represents a 9% increase in earnings per child since 2020, which is more than double the average weekly wage growth for adults.
However, this increase isn't a result of handouts from parents and grandparents. Up to half of young people no longer receive weekly pocket money or allowance without being expected to complete tasks in return, and 34% have a part-time job of some description. However, traditional earning methods such as babysitting and dog walking are falling out of favour. Over the last year it's become more common – and more lucrative – to earn from home, rather than doing traditional part-time jobs.
1.33 million UK kids (13%) are now making money from investing in cryptocurrency

A quarter of kids and teens (25%) are now earning from selling things on online marketplaces such as Etsy, Ebay, Depop and Vinted with an average monthly 'wage' of £7.34

Nearly one in five (18%) kids are earning money from gaming, with 12-year-olds making the most, taking home on average £8.24 a month

12% of 7-year-olds are already making money from social media, topping up their pocket money payments with £5.14 from kid-fluencing each month. This rises to 23% for 10-year-olds whose social media stardom is earning them a monthly average of £6.21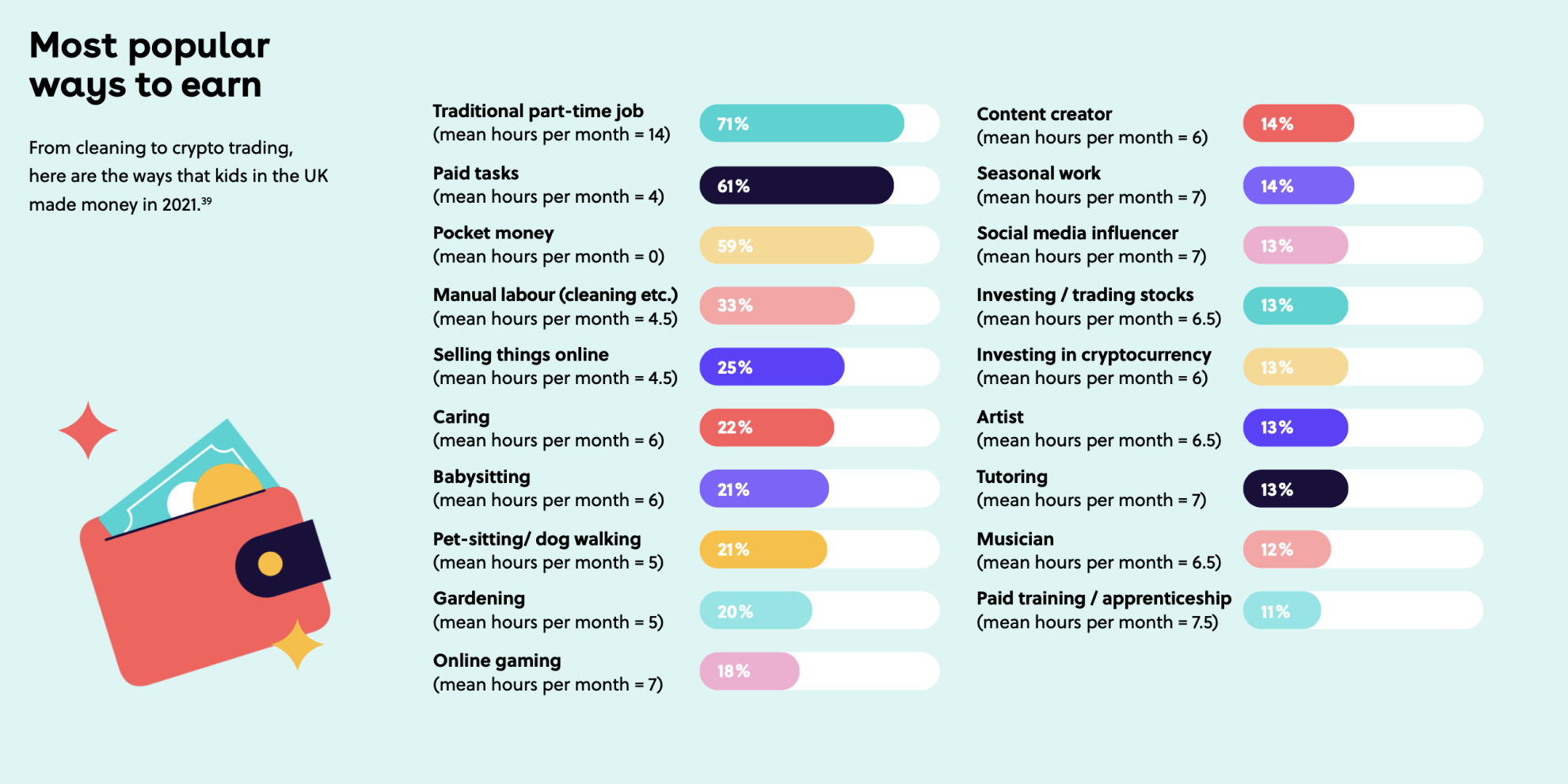 The future of work
Our new research suggests that Generation Aspiration are ready to rip up the rule book when they enter the adult world of work. Their entrepreneurial attitude means that 26% plan to be their own boss in the future – and one in five (21%) say that this is a priority for their future career.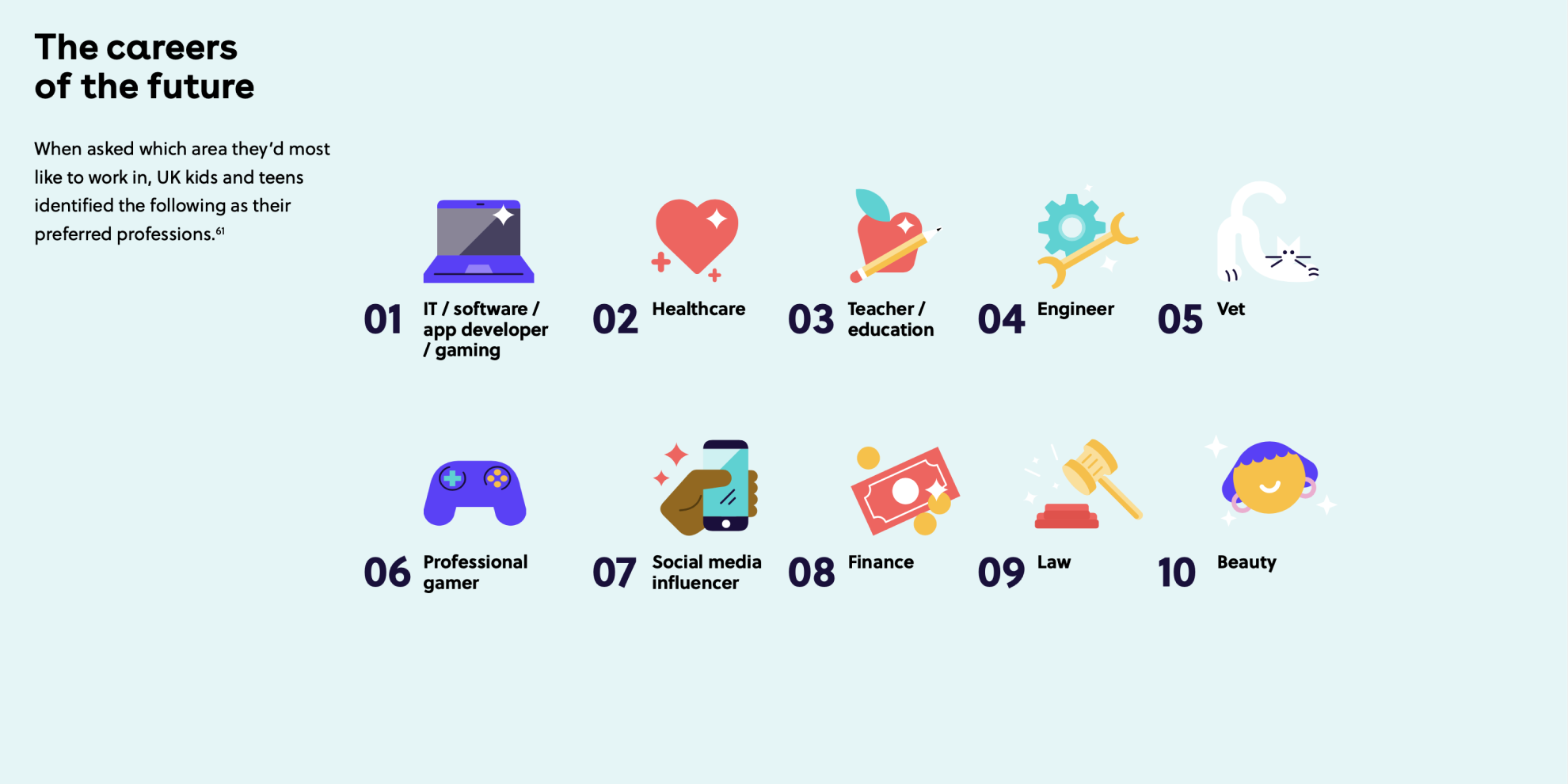 When asked about their career aspirations, jobs in IT / software / gaming / app development are the most sought after, followed by healthcare and teaching. But even when trying to get a foothold in a competitive industry, young people have ambitious financial goals – they aim to earn a minimum of £36,000 (4) per year – which is around £5,000 more than the average UK salary.
"It's inspiring to see the ambition of young people when it comes to earning their own money, especially after a tough couple of years with the pandemic. The future of work is rapidly changing now that kids are growing up surrounded by people just like them, who are starting businesses from their bedrooms, and making money thanks to the explosion in digital opportunities. As a result, the Youth Economy is booming. With 75% of children agreeing financial education will help them in their future career, our report findings show how empowering children to earn money from a young age could have a lasting positive outcome on equality and job opportunities in the UK."

Louise Hill, COO and co-founder of GoHenry.
Data was taken from a sample size of over 451,500 GoHenry members aged 6-18 years old who were active on their accounts from 1st Jan 2021 - 31 October 2021.

Consumer survey was conducted by Censuswide in December 2021 with 2,000 children (age 6-18) in the UK

.

According to research from Censuswide, kids believe they will need to earn at least £2,353 a month, totalling just under £36,000 a year, to live a comfortable and happy life as an adult.